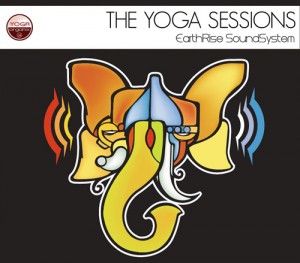 Artist: EarthRise SoundSystem
Title: The Yoga Sessions
Label: White Swan Records
Cat.#: WS 0014
Release date: 1/1/2010
Genre: Electronic Yoga music/Club
Reviewed by Jim Hoey
Music promises the possibility of immeasurable realities: catharsis, technical innovation, nostalgia, introspection, humor, aggression, confusion, chaos, sexual release or conformity, for starters. Some albums offer excursions into many of these realms at the same time, others hone in on one or two and work out from there.
At the core of this release by EarthRise SoundSystem, purification and revitalization are the key starting points which New York natives Derek Beres and Dave Schommer work out from. This is music equally at home on the dance floor of some underground club, or as the background during an intense meditation session. Expect equal parts drum and bass mixed with eclectic, tasteful eastern and western vocals.
In fact, the combined experiences of these two beat makers are rooted exactly in those worlds: whether you're with friends at a club or lounge, or visiting a yoga center on sabbatical in Nepal, it wouldn't be surprising to discover this music pulsing in the background. Since the vocals are almost all from other languages (except for two tracks by the soulful Lucy Woodward of Verve Records), it's all the easier for the English-language listener to relax to this, let the mind float downstream, and attempt to purify the body and mind, with tasty percussion, piano, flute, and deep bass providing the constant ambient feed.
Oh yeah, there's also over an hour's worth of subtle, soothing, music (8 songs clock in at 6 minutes or more!), so they're not holding back. This is a worthy offering of expansive, at times dub-tinged, trance-ready, yet tasteful, never wasteful, (yeah!), yoga music, that is much, much more than a space-out soundtrack for the bikram (hot yoga) set.
Link:
Listening to songs
ERSS events:
EarthRise SoundSystem Record Release Party
Nublu | 62 Ave C (bet 4th-5th St) | NYC
FRI 1.08.10 | 11 pm | $10
Live sets by EarthRise SoundSystem and Davi Vieira.
DJ sets by Mark Basta and EarthRise SoundSystem's Derek Beres & Duke Mushroom.
Acromukti Yoga: Strengthen and Liberate with Jivamukti Yoga and Acroyoga
Kripalu Center for Yoga & Health
Berkshires, Western Mass
SAT 1.09.10
EarthRise SoundSystem will be performing for Sandhi Ferreira's class, turning the space into a DJ party with live percussion afterwards.