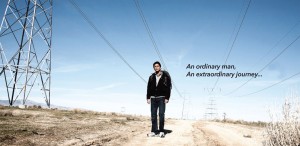 About the movie
This is the trailer of the  upcoming Bollywood film My Name Is Khan based on a true story of one man's (played by one of Newsweek's 50 most powerful people in the world, Shahrukh Khan) journey across America post 9/11. Directed by Karan Johar and starring Shahrukh Khan and Kajol.
Synopsis
My name is Rizwan Khan. I might seem a little different to you. That is because I have Aspergers Syndrome. It is named after Dr. Hans Asperger who first noticed the traits in children.  Having Aspergers does not mean I am stupid. I am very intelligent, but I don't understand people. I don't know why people say things they don't mean. For example, they say come to my house any time, and when I go to their house they say why have you come at this time? Sometimes people think I am rude. I don't mean to be rude, being rude is not good. My mother said there are only good people and bad people in the world and I am a good person
His Story
Rizvan Khan, a Muslim man from India, moves to San Francisco and lives with his brother and sister-in-law. Rizvan, who has Aspergers, falls in love with Mandira. Despite protests from his family, they get married and start a small business together.  They are happy until September 11, 2001 when attitudes toward Muslims undergo a sea-change.  When tragedy strikes, Mandira is devastated and they spliit.  Rizvan is confused and very upset that the love of his life has left him. To win her back, he embarks on a touching and inspiring journey across America.
Visit the Official Film Website Here

About the CD
Shankar-Ehsaan-Loy's musical score for the film reflects the myriad hues of the film. Music composers Shankar-Ehsaan-Loy are India's must renowned and accomplished artists, and the trio has been responsible for some of the biggest hit soundtracks of the last decade. The album has Sufi inspired sounds and features amazing vocalists from the sub-continent – Rahat Fateh Khan, Shafqat Amanat Ali and Adnan Sami. The music is earthy and features very prominently in the film. Over 20 minutes of the film is set solely to music.