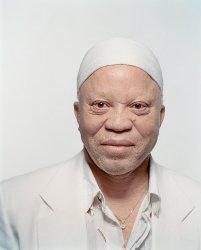 Salif Keita's voice is one other mortals can only aspire to. A searing tenor that somehow sounds gritty and glorious all at once, it's a complicated instrument that transcends language barriers, and with its subtle shadings offers solace and succor, joy and even redemption. It's not for nothing that Keita is known as the golden voice of Mali.
Given Salif Keita's incredible talent, it was inevitable that one day music would take him back to his homeland, despite the hardships he once faced there. Recently, that inevitability came to pass. With a 35-year career behind him, Keita returned home to record his latest release, M'Bemba, in Bamako in the studio "Moffou" he had built by the River Niger.
As an albino, Keita once was disowned by his own father; as a musician, he was rejected by the aristocracy of his own caste; and as a man with ambition, he had no choice but to leave a country that offered no professional perspectives. Keita's career has led him on a wandering path, through Abidjan, New York and Paris. But his strength, talent and clairvoyance enabled him to find fame and fortune on that path, allowing for his symbolic and triumphant return to Mali.
This form of prejudice was recently featured as a front page story in the Wall Street Journal where Keita stated he is using his fame and wealth to improve the fortunes of other albinos and his goal is to make sure that albinos are treated like normal people.
Because of political unrest, Keita left Mali in the mid-'70s for Abidjan, capitol of the Ivory Coast. The rest of the band followed, and they changed the bands name to Les Ambassadeurs Internationales. It was here that the group recorded Mandjou, which became a huge commercial success in 1978.
Beginning in 1997, Keita returned more and more frequently to Mali. Eventually, he opened a studio in Bamako, where he began producing young artists, including Fantani Touré. More recently, he has opened a club in Bamako called Moffou to promote the West African music scene.
Today, Keita is a Pan-African, an ardent anti-racist and pacifist, and a man of uncommon generosity who strives to build new bridges between Africa and the rest of the world. He is working to take a greater part in the destiny of his country – to encourage emigrants to return, and to protect and promote local artists by working toward the emancipation of African music. In other words, Keita hopes that one day African music can be conceived in Africa – rather than being recorded predominantly in Europe and America.
Looking back at Keita's life, it is no surprise that he has an optimistic vision for the future. Keita's childhood was full of struggles, and yet he became so much more than those who ridiculed him could have imagined. Fueled by the optimism that his own life has created within him, Keita aims to spread his message of hope through his music, through his actions and through his words.
Happiness isn't for tomorrow, Keita says. It's not hypothetical; it starts here and now…Nature has given us extraordinary things…Let's take advantage of the wonders of this continent at last – intelligently, in our own way, at our own rhythm, like responsible men proud of their inheritance. Let's build the country of our children, and stop taking pity on ourselves. Africa is also the joy of living, optimism, beauty, elegance, grace, poetry, softness, the sun and nature. Let's be happy to its sons, and fight to build our happiness.
In November of last year Salif released a new album called La Difference (a cover album with four new tracks, including La difference, released by UNIVERSAL France). Here is a video which shows the making of this album (in French). More about this album.

SALIF KEITA – EPK "La Différence"
by spokanet
Planned 2010 US tour
Jun 11 2010 8:00PM, Vsa/Lisner Washington, Washington
Jun 12 San Francisco
Jun 13 Santa Rosa
Jun 17 Chicago
Jun 19  Long Beach
Jun 21 New York

Salif Keita-Muhammad Ali – For more of the funniest videos, click here