Date: Thursday, March 18th
Time: 7 pm
Venue: Le Poisson Rouge (158 Bleecker Street & Thompson, NY, 212-505-3474)
Ticket: $15
Genre: nu folk, anti-folk?, avantgarde?
Opening act: Mixel Pixel
Unbelivable John S. Hall and his band  King Missile are listed in Wikipedia. The first paragraph starts like this: "King Missile is an avant-garde band that has been led in various disparate incarnations by poet/singer John S. Hall since 1986. Currently, Hall performs with a new version of the first incarnation, King Missile (Dog-Fly Religion)."
Yes, this is right! On Thursday he is bringing his band to Le Poisson Rouge. The line up is:
John S. Hall – vocals, Stephen "Dogbowl" Tunney (Dogbowl) – guitar, vocals, John Kruth (TriBeCastan) – mandolin, guitar, flute, green machine, vocals, Dave Dreiwitz (Ween) – bass, Billy Ficca (Television)– drums and special guests: Justin Kantor on cello and Sohrab Saadat Ladjevardi (THE TEHRAN-DAKAR BROTHERS) from Iran on soprano sax. Instead of playing his silver tenor sax Sohrab is playing his golden soprano. A special treat!!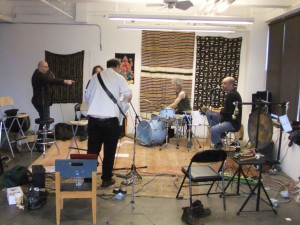 Of course they are going to play the hit song "Detachable Penis".
DBDBD checked out their rehearsal in Manhattan Sunday afternoon. It was fun to watch them rehearse. Hall was funny but focused. Giving each member the chance to stretch out. As a result the band sounded fresh and energetic. The members had a good time and had no problems to go through the long song list of twenty songs. The rhythm section was grooving, John Kruth especially gave the band an Indian-psychedelic sounding touch. John S. Hall was a little reserved in his singing because of saving his voice for Thursday.
Thursday will be a special night for old and new fans.  We will listen to new interpretations of old songs which will kill the nostalgia and give birth to a new feeling regarding this band. King Missile is now and not yesterday.
Here is John S. Hall in person!