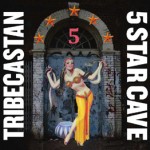 Artist: TriBeCaStan
Title: 5 Star Cave
Label: Evergreene Music
Cat.#: 004
Genre: nu world music
Reviewed by Jim Hoey
Just a fast glance at the instrument listing on this album and you know you're in for a musical ride around the world. The two mainstays of TriBeCaStan, Jeff Greene and John Kruth, both play about 20 instruments each, spread out over the 18 songs on 5Star Cave. To this they add the contributions and embellishments of Todd Isler on percussion and Mike Duclos on bass, and 11 other special guests, to tip the needle of their musical compass in one direction or the other.
On their debut CD, Strange Cousin, the emphasis was on song in Croatia/Serbia and around the world, with a focus on vocals. The eclecticism of that approach is still there on this, their second, "sophomore, but not sophomoric", release, but with a marked distinction: almost every song on 5 Star Cave is instrumental, and the ones with vocals, courtesy of the ethereal Samantha Parton, have more of a psychedelic ("Stoned Baby") and Irish traditional sound ("Wildwood Flower"). The other instrumentals span a wide range reflecting influences from India and the Middle East to Eastern Europe and Northern Africa, and feature incredible contributors like Al Kooper on organ (ever hear "Rainy Day, Dream Away" by Hendrix, or "Like A Rolling Stone" by Dylan?), Badel Roy on tabla (known for his work with Miles Davis and John and Alice Coltrane, and jazz trombonist Steve Turre, who also appeared on the debut album.
Yet the unifying link is Greene and Kruth, who weave around on mandolin, 12-string guitar, flutes, bird whistles, Japanese temple bells, wood block, saz, royal benju, harmonica, and more. With each switch of instrument, they conjure different shades and tones that represent decades of playing and travelling around the world, picking up rhythms from the sources. This encyclopedic palette is tempered well by the heart and humor that backs each melody and romping scale. Also, freed from the more song-rooted structures that dominated the first album, 5 Star Cave offers more in the way of coolly meandering melodies, proggy breaks, and heartbreaking slow boilers that creep and build, and the great interaction of musicians that have been playing for years, able to get a lot down and tap into deep energies.
About the CD release party
The CD release party (see #6 listing) for 5 Star Cave will be at Joe's Pub in NYC on Saturday May 8th, 2010, and will feature the 9-piece "Folkloristan" ensemble assembled specially for this party with Ibrahim Gonzalez on percussion, Dave Dreiwitz on bass, Scott Metzger on guitar (strictly obeying the no leather pants rule), Claire Daly on sax and flute, John Turner on trumpet, and Kenny Margolis on accordion and keyboard. It should be intense to see these musicians assembled onstage simultaneously, representing three generations of folk, jazz, rock and world musicians "radicalizing their traditions."
TriBeCaStan in Facebook
Listening to tracks and buy CD