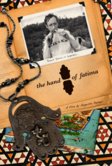 Text by Augusta Palmer
Hi there friends & fans of  The Hand of Fatima,
We're thrilled that The Hand of Fatima will be a part of the 19th Annual Woods Hole Film Festival on the Cape this year, and Producer/Editor Chris Arnold and I will both be there for the screening!
Buy tickets now for our screening on Tuesday August 3rd: 
http://www.woodsholefilmfestival.org/2010/films10/film_detail.php?id=32
We're also very happy to report that The Hand of Fatima was named Best Documentary at the New Jersey International Film Festival, which we really enjoyed attending.
More about The Hand of Fatima in DBDBD.
And check out our newly streamlined website at http://www.thehandoffatima.com