Date: June 13, 2010
Venue: Highline Ballroom (NY)
Text by Sohrab Saadt Ladjevardi and Jim Hoey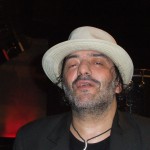 Rachid Taha rolls his rrrrrrr's, and lets his husky sound build song after song, crescendoing to climax, and the effect of him and his band recently at the Highline Ballroom show was one of exultation, celebration, rebelliousness, and ultimately, exchange. He's an Algerian from a small village in North Africa, but was raised in his adolescence in France under discriminatory conditions, influenced by Arabic traditions and the best of Western music like Zeppelin and the Clash that floated in and out of Paris in the early '80's, when he was trudging away in a factory and first forming his own band and running a nightclub called "Les Refoules" (The Rejects).
The band that accompanies him now consists of five musicians, Guillaume Rossel on drums, Stephane Bertin on electric and acoustic guitar, Sylvain Chopin-Bernard playing keys, Yves Aovizerate manipulating samples, and Hakim Hamadouche plucking the mandolute. It may be the mandolute which most typifies his sound – this instrument mixes the mandolin with the lute, and with its body, thicker than the mandolin, allows the unique arabesque rhythms to resonate even louder, adding to the mix of rock and dance that Taha brings together.
At this show, a number of highlights hit the crowd mixed with Algerians, Arabs, and New Yorkers. "Bonjour" featured Bertin on acoustic guitar, and his touches of flamenco thrilled; on "Shuf" the backup vocals echoed Taha's lines exquisitely; "Garab" (encore song) a fast funk/skank track moved heads in the crowd; and a mandolute solo by Hamadouche perfectly showcased the more traditional side of the Algerian sound that is Taha's heritage.
Before jumping into their hit cover of The Clash's "Rock the Casbah," which was used in the '07 documentary of Joe Strummer, The Future is Unwritten, Taha led the crowd in a timely chant of "Fuck BP" (or "Fook BP," as his accent would have it), and that's an interesting turnaround from an originally British song sung about defiance of censorship in the Middle East, changing it to point the finger at the greed and malfeasance of multinational corporations today still sticking their heads into remote parts of the world and creating problems. It's this attitude that shows that rock can coexist and be appropriated by the right artist into any tradition and spun out again in a brand new hybrid form that resonates and pulses with masses internationally.