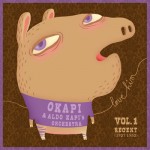 Artist: Okapi                                
Title: Love him
Label: Illegal Art
Cat.#: IA120
Genre: electronica/ sampling
Reviewed by Zack Prewitt
Are these guys trying to have their way with me? I think so. Either way this is delightful high concept stuff. Alleging to be performing the compositions of early 20th century Kyrgyz composer Aldo Kapi, Okapi instead appears to be a masterful arrangement of extremely tasteful samples. Among the more than 100 participants listed in the "orchestra" are familiar and unfamiliar names from everywhere. Han Bennink, Lester Bowie, Dick Dale, Eartha Kitt, Knifehandchop,
Ikue Mori, and Evan Parker are just a small sampling. Tongue is frequently in cheek, but remarkably, this record never steers itself into kitschy territory. This mix touches ably on jazz, ambient, dub, and a myriad of electro sub-genres I would surely mislabel. Noisy found-sound interludes mingle pleasantly with mellow post-bop as well as water sprinklers, alarm clocks, noisy synths or house beats. Each track has its own vibe, which on its own doesn't seem too significant. Taken as a whole however, this is a unique, inventive, and surprisingly stimulating listen. Fans of Foetus, Meat Beat Manifesto, and FSOL may as well give this one a try.
Please read more about sound sampling in DBDBD.