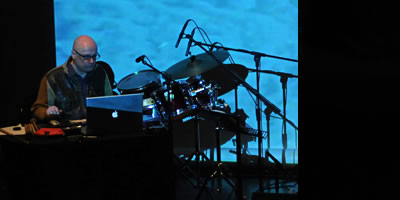 Text by Sohrab Saadat Ladjevardi
I can't remember when and how exactly I met Hubl Greiner, a German musician, composer and brain of the experimental-dada-world fusion band The Blech. But what I remember, is that when I met him for the first time  I lived in Tokyo. I was a musician myself and earned my living teaching English and German and writing as a freelance music journalist for Japanese music journals.
I think one day my guitarist at that time, who was German, talked about The Blech and got me interested in the band. When I was in Germany in 1992 to visit my family in Hamburg, he  told me to check their show in Hamburg out, which I did. I enjoyed the show and interviewed Hubl the next morning at his hotel. Later I published the interview  in a Tokyo music magazine. The next thing I did for this band, was I got them a record deal in Japan in 1993. They went on to tour Japan the same year.
Speaking of that Hamburg show in 1992; they shared the stage with BLURT and STAN RED FOX. It was a very interesting night because I didn't know any of these bands. Although I liked all bands, The Blech was my favorite of that evening (and… they became my favorite German band.). What I liked most about their music, was it was very intellectual and emotional at the same time. Their sound was very original as well as German. It was was a fusion of  German cabaret, Brecht/Weil, Jazz, Punk, Balkan Beat, elctronics and Middle Eastern sounds and melodies. All their songs were originals. Each song had a specific message, conveyedwith an ironic tone: dada, doodoo, beebee. No other German band sounded like them! Looking back, this band was ahead of its time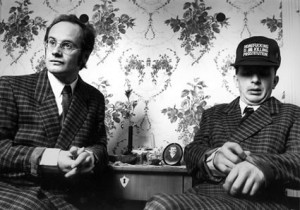 Also, all the members of the band were very interesting characters to watch on stage. The singer and trumpet player, Rupi (Der Volz), and the drummer, Hubl, who were both small guys, especially stood out. Both were funny and did performance acts on stage. Rupi's trumpet playing was very straight and loud, playing like a circus clown. His German dadaistic singing gave the band a special character which no other German band has ever had. Hubl's jazzy-punky, cabaret drumming accompanied and supported Rupi's trumpet and voice perfectly.
Again…The Blech was a great band and ahead of its time. It's a shame that this band never made it big in Germany like other German bands; such as Einsturzende Neubauten, Can, Fehlfarben, Der Plan, Kraftwerk, Malaria, Die Haut, Nina Hagen, etc..  Why ? I don't know. They were signed to the fine indie German label Jarowhich really promoted them. They toured alot in Germany and around the world, and got great CD and concert reviews.  But all these things didn't help to raise their popularity very much. People in Germany were deaf or not ready for this kind of music. Eventually due to personnel problems, the band disbanded in 1996.
After this long intro, let me talk about the present Hubl Greiner. After The Blech break up Hubl started a new life as a musician, composer, producer, blogger, photographer, music activist and music educator.
Hubl the musician
Hubl and THE BLECH
His latest CD with HULU PROJECT Inemuri (ambient music, acoustic art, electronic soundscapes)
Hubl the music activist and educator
Hubl, along with Dr. Mohamed Badawi, started the non-profit organization The Sudan Education Project in 2004. The goal of this music-based project is to educate and rehabilitate the street children of  the Alrashad Center, in the Sudanese capital of Khartoum. Hubl and Mohamed developed a special music therapy which includes  music lessons conducted by music teachers, and guided by a professional music therapist.
Hubl the producer
Mohamed Badawi (nu Sudanese pop)
Stepanida Borisova (a shamanistic singer from Sakha – Siberia)
The DJ Hoerspiel Ensemble (The Dj radio play ensemble)
Hubl the photographer
DIE FOTORISTEN is a group of photographers w. Hubl Greiner, Claudia Knupfer, Mohamed Badawi and Stefan Postius.