Date: August 28, 2010
Venue: Joe's Pub August 28, 2010
Text by Jim Hoey
While NYC is abuzz with the Fela! Broadway show, and members of that performance are still floating and playing around town, including the members of Antibalas, other acts from Africa, mixing musicians from all over the world, are bringing the afropop experience to life in NYC, far away from the remotest reaches of Africa.
Elikeh, one such group from Washington DC, recently visited Joe's Pub, and frankly packed the place with a curious crowd ready to catch a little of the call and response, horn-heavy, afro-jazz that defines this band. The 9-piece Elikeh did not disappoint either, laying down a set of strong, politically-tinged dance tunes straight from the front lines of the African diaspora, body moving beats galore, with loads of charged lyrics confronting the corruption in the Togo government, as well as in governments around the world.
This has most to do with Elikeh's leader, vocalist and lead guitar player, Massama Dogo's rediscovery, upon moving to the US around 2000, of the native rhythms of Togo, which are notoriously underrepresented in the lore of world music. The likes of Salif Keita and Oumou Sangaré of Mali, and Fela (Kuti) of Nigeria are household names for many, but the musicians of Togo are often forgotten. Massama Dogo is doing his best to remedy that, bringing his mix of afropop, highlife, and blues rock to the fore at all of the Elikeh concerts.
With Frank Martins on guitar and vocals, Tosin Aribisala on drums, Scott Aronsonn on bass, Josh Kay on percussion, Aaron Pratts on trumpet, Clayton Englar on sax and flute, and new addition Megan Nortrup on saxophone, Elikeh led a packed house through dance tune after dance tune. Without a dance floor, it was funny to see patrons itching to get up and move while sitting at tables with a full plate of dinner in front of them. A few people found their way to the aisles and got moving, and you could tell that if there had been another set, after the food was taken away and a few more rounds had been downed, this crowd would have all been up on their feet. At the end of the night, I was not surprised that this DC band could bring so many heads out to a NYC show; in fact, I was just surprised that they haven't been booked at a larger venue yet….
xxxxxxxxxxxxxxxxxxxxxxxxxxxxxxxxxxxxxxxxxxxxxxxxxxxxxxxxxxxxxxx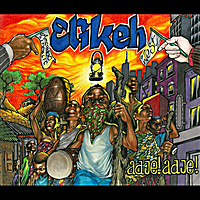 Listening to tracks and buy CD
Next show: Thursday, November 4: Elikeh w/ Lucky Dub. Last show of the year!
DC9
Tickets
doors: 8:30PM
show: 9:00PM
18+ / $10
xxxxxxxxxxxxxxxxxxxxxxxxxxxxxxxxxxxxxxxxxxxxxxxxxxxxxxxxxxxxxxx
xxxxxxxxxxxxxxxxxxxxxxxxxxxxxxxxxxxxxxxxxxxxxxxxxxxxxxxxxxxx

xxxxxxxxxxxxxxxxxxxxxxxxxxxxxxxxxxxxxxxxxxxxxxxxxxxxxxxxxxxx