About the film and Khayyam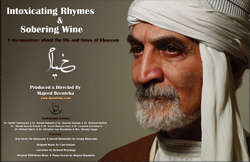 This educational documentary, which is directed by the Iranian film maker and photographer Majeed Beenteha,
is about the life and times of Omar Khayyam, the famed 11th-century Persian mathematician and astronomer. It  reexamines Khayyam's life, work and poetry, and attempts to identify the reasons behind our intellectual preoccupation with his poetry and message.
Although today Khayyam is better known as a poet, during his lifetime he was known mainly for his achievements in the sciences and mathematics. The earliest references to his poetry come centuries after his death, when poetry attributed to him begins to appear in historical sources.
Khayyam achieved great fame as a poet after he was introduced to the Western world by Edward Fitzgerald, an English poet who anonymously published an English rendition of Khayyam's poetry titled "The Rubaiyyat of Omar Khayyam" in 1859. The Rubaiyyat became a literary sensation, particularly in England and North America, and influenced and inspired many great literary minds of the Western world such as Ezra Pound, Mark Twain, and T.S. Eliot, to name a few.
Ironically, we have come to know Khayyam almost exclusively on the basis of the poetry attributed to him, the majority of which cannot be substantiated as his work.
Furthermore, our knowledge of the historical Khayyam is fragmentary. Each successive generation after Khayyam has made literal, metaphorical, and symbolic interpretations of his poetry and has reinvented Khayyam's image and message to fit and serve its own political and intellectual ambitions and aspirations.
Through interpretation of his poetry, Khayyam has been labeled a Sufi, mystic, atheist, nationalist, warrior, and devout orthodox Muslim, all in one breath. In the absence of more evidence, the historical Khayyam is a lost figure whose accurate reconstruction is unlikely.
It is astonishing that centuries after his death, we have not lost our fascination with Khayyam and his poetry. What motivates and drives our interest in him is as mystifying as the man himself.
Written, produced & directed by Majeed Beenteha
Released: 2008
Khayyam performed by Iraj Anvar
Read more about cast & credits and buy DVD
About the director
Majeed Beenteha was born in Isfahan, Iran. His interest in film and photography began in high school and later in college where he studied film & photography. His first foray into filmmaking was a short experimental film titled "Cirque Shab" (cirque de De Nuit ) ", a film that deals with the place and role of women in the Iranian society. During the making of this film, he met and worked with Iraj Anvar, a respected Iranian artist and scholar.  He directed and produced two additional films in collaboration with Iraj.  The first was a short experimental film titled "Naqqali Shemr & Daughter of Iran". In this film an ancient Iranian storytelling art form called "Naqqali" is used  to versify and  narrate a tale of rivalry between the Persians and their nemesis, the Turanians.

In his latest film, a documentary independent film titled "Intoxicating Rhymes & Sobering Wine", Iraj portrays Khayyam, the legendary 11th century Iranian mathematician, astronomer, and poet. Inspired by Khayyam's poetry, Majeed composed eleven musical tracks that were produced under two CD titled "Plugged into Khayyam Volume I and II". His mixed-media, video and photography work has been on exhibit at Whitebox, LTMH, and Gershwin galleries in NYC as well as Seyhoun Gallery in LA.  Over the years, Majeed has written and produced several plays and continues to write poetry as a hobby. He has also written and published a children book titled "Once upon a star".
About the music (including titles and musicians)
Barkhiz Piano Music: composed and vocal by Majeed Beenteha, performed & arranged  by Juan Rodriguez
Man Be May Nub DVD-Menu Music: composed and vocal by Majeed Beenteha, performed & arranged  by Juan Rodriguez
Choon" Intro Film Music: composed by Cam Hatami & Majeed Beenteha, vocal by Yasaman Pishvazadeh, performed & arranged by Cam Hatami
May Khordan Credit Roll Music: composed by Cam Hatami, vocal by Majeed Beenteha, performed & arranged by Cam Hatami
Kamancheh & Guitar & Setar Music: composed, performed & arranged by Cam Hatami
Additional musicians: Benjamin Tyree, Munir Bashir, Dawoud Kringle and Zulal a Cappella Folk Trio