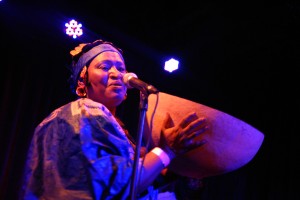 Date: March 5, 2011
Venue: Bell House (Brooklyn, NY)
Concert review and photos by Stephanie Keith
Khaira Arby's set at the Bell House in Brooklyn started as a praise song to Allah. The first line to the Koran "Bismillalla Allah il Rahman il Rahim"…..reverberated up to the rafters. Arby is paying homage to the female singers of Mali who were historically only allowed to sing religious songs.
xxxxxxxxxxxxxxxxxxxxxxxxxxxxxxxxxxxxxxxxxxxxxxxxxxxxxxxxxxxxxxxxxxxx

xxxxxxxxxxxxxxxxxxxxxxxxxxxxxxxxxxxxxxxxxxxxxxxxxxxxxxxxxxxxxxxxxxxx
But it's a whole new era for women and music from Mali, as Khairy Artby proves with a vibe was more reminiscent of rebel music than a pious gathering. Although most musicians from Mali are labeled Desert Blues, I felt her music was more Desert Punk, mind you, performed by a Grand Dame. Singing in several languages, Arabic, Tamashek, and Sonrhai, what registered was not despair but fight.
Looking resplendent in a blue tunic and shimmering gold tiara, she sang with her forceful voice, played several drums and occasionally ceded airtime to her extremely young and talented guitar player who may become a superstar in his own right in the future.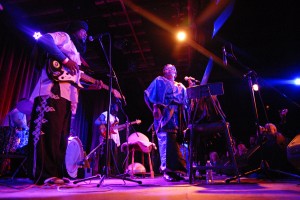 Some bands are just loved by critics, like Ms. Arby was this night, with both Jon Pareles of the New York Times and Banning Eyre, godfather of World Music, in the audience. One of the more lighthearted moments came when Mr. Eyre did a turn on the guitar for a song. Unfortunately for Ms. Arby the crowd was relatively thin, but they were appreciative. Don't be fooled by the light crowd or the relative newness of Arby on the U.S. scene. She is a virtuosic veteran having carved out a new space for women in World music.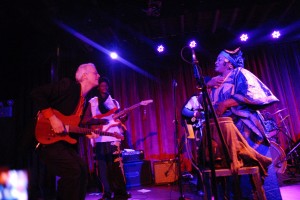 Perhaps Ms. Arby is overshadowed by her more famous brethren, like Tinariwen, or her mentor, Ali Farka Touré, a shame since her music comes from a completely different angle than these two great acts. First, her voice is the main instrument in the band. Sometimes her voice soars above the ambling guitars and sometimes it comes down off of its heights to be in conversation with the punctuated, psychedelic guitar reverb. She is a true Diva in the sense that she is in complete control of her craft, her band, and her voice.
Ms. Arby also performed with her opening act, the Sway Machinery, a band who collaborated with her on an album they recorded on a trip to Mali, "The House of Friendly Ghosts, Vol. 1"  (JDub).
xxxxxxxxxxxxxxxxxxxxxxxxxxxxxxxxxxxxxxxxxxxxxxxxxxxxxxxxxxxxxxxxxxxx