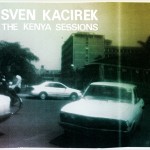 Artist: Sven Kacirek
Title: The Kenya Sessions
Label: Pingipung
Cat.#: PINGIPUNG 20
Genre: contemporary roots music
CD review by Anika Lani
I'm not saying that Sven Kacirek does not want to earn money from his music. Upon listening to his cd, The Kenya Sessions, it is easy to understand that Kacirek's first order of business, when stirring up a pot of melodies, is providing sonically spiritual nourishment. The tracks float over drumming water currents where drumbeats intersect with xylophones and pianos holding the lush voices of Kenyan chanters and songstresses.
xxxxxxxxxxxxxxxxxxxxxxxxxxxxxxxxxxxxxxxxxxxxxxxxxxxxxxxxxxxxxxxxxxxx

xxxxxxxxxxxxxxxxxxxxxxxxxxxxxxxxxxxxxxxxxxxxxxxxxxxxxxxxxxxxxxxxxxxx
Sven Kacirek traveled with Tabu Osusa, the producer of a Nairobi based record label, Ketebul Music.Together they set off along the east and west sides of Kenya in search of little heard indigenous harmonies found in the hearts of musicians located in the smaller villages of Kenya. Creative construction of stories through the conversational poetry that flows through songs such as "Walking to Rangala" and "Dear Anastasia", sung by seventy year old singer, Ogoya Nengo, who is known throughout neighboring villages near Rangala, makes the music seem like an up tempo and welcome narcotic to inspire a wellspring of moving visions. At first, I thought I would be able to hear snippets of the songs in order to absorb their notes and meaning. I realized after listening to a full length one that each bar would require a refined ear to hear each song's layers twist and wind  through the entrance of an unexpected flute and maracas rhythm or mountain high ululation.  Entranced is what the listener becomes when flooded with sparkling chord patterns that move in a subtle yet aggressive glide of a cobra swimming in the deepest caverns of the ocean."Trickled Away" begins with shaking bells, a woman singing over each bass tone syncing her voice with alternating loops of the keyboards.  The liner notes lists "Trickled Away" as a 5/8 beat , an uncommon one for folk forms. Sven Kacirek, surrenders to total awareness of how he wants to control and deliver a modern sound experience that encompasses hypnotizing electronic elements falling in rivulets over traditional Kenyan story telling and sermonizing.
Simply downloading this cd is an approximation of a purposeful journey through the villages of Malindi, Rangala, and the western region of Kenya's Nyanza. Violins and animal hide drums, delicate and powerful hand clapping, call and response, and the spirit of dance paint lasting portraits of real instruments melting towards a reprogramming of the brain's ability to remember complex strands of ancient music.The liner notes unfold into brief biographical sketches of how each song traces its origins. Pragmatic magic was used to transform a hut of a once famous singer Owino Koyo, into a spontaneous studio recording session.
The Brazilian Jazz is a frame of reference for Sven Kacirek's and Tabu Osusa's contemporary musical ideas. Strength, pulse, and heat fan the records' layers so that each part of the eardrum receives a wave sending rising drum and bass patterns, endless streams of strings, and quick pearls of percussion down the nervous system. The steady high horns of "Paperflowers" moving through fluctuating contact of vibration and a dance beat, make what is a more melancholy track compared to the others, still uplifting.
xxxxxxxxxxxxxxxxxxxxxxxxxxxxxxxxxxxxxxxxxxxxxxxxxxxxxxxxxxxxxxxxxxxx

xxxxxxxxxxxxxxxxxxxxxxxxxxxxxxxxxxxxxxxxxxxxxxxxxxxxxxxxxxxxxxxxxxxx
The last song on the cd "Takeya Preaching" is a forceful sermon recorded live at a church service in Takaye village near Malindi. The preacher to the twelve worshipers, accelerated his pitch while building the intensity. Sven incorporated slight hip hop scratching and quick palm percussion to accompany the preacher's crashing wave of admonishment. In a language only known to those who've caught a god's plea in the form of this preacher, he nevertheless speaks as if all who love music get his stern drift, through his universal ancestral speech.
The Kenya Sessions is a twenty first century statement of downsizing profit paradigms and a swelling of sensual experience created in African community art.
More Information: http://www.svenkacirek.de and  http://www.barabara.fm