CD reviews by  William Harvey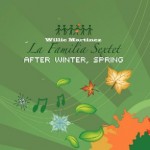 Artist: Willie Martinez/La Famillia Sextet
Title: After Winter, Spring
Label: Cuch Be Witcha Productions
Genre: Latin Jazz
After Winter, Spring is drummer/percussionist Willie Martinez's second album as a leader. This album features many of Martinez's own originals and arrangements. His band La Familia Sextet is tight and hard grooving as they venture through various latin jazz styles. On this recording Martinez lets his band shine as he plays mostly a supporting role in the rhythm section; a sign of a mature veteran who as a leader choses to place emphasis on melody and groove.
In addition to his strong instrumental chops Martinez is featured as a vocalist singing in both English and Spanish. Musical influences heard range from Ray Baretto, Max Roach, Ray Romero, Cachao, to Hilton Ruìz as mentioned in the liner notes of After Winter, Spring. Additionally, pianist Misha Tsiganov wrote "Anthony" as a dedication to the late Tony Williams , which ends with a nice drum solo. After Winter, Spring has and will continue to captivate Latin jazz and Afro-Carribean music fans alike.
xxxxxxxxxxxxxxxxxxxxxxxxxxxxxxxxxxxxxxxxxxxxxxxxxxxxxxxxxxxxxxxxxxxx

xxxxxxxxxxxxxxxxxxxxxxxxxxxxxxxxxxxxxxxxxxxxxxxxxxxxxxxxxxxxxxxxxxxx

Artist: Rusconi
Title: It's a Sonic Life
Label: Sony Music (Germany)
Genre: Nu Jazz
In April of 2010 Rusconi released an album dedicated to the music of Sonic Youth entitled It's a Sonic Life on Sony Music label. Rusconi is a critically acclaimed Swiss jazz trio lead by pianist Stefan Rusconi who is joined by Fabian Gisler on double bass and Claudio Strüby on drums.
For this project Stefan Rusconi compiled a collection of his favorite SY songs and also included some of his own music inspired by SY lyrics. Each track is a fresh take on the original and in the vein of SY, Rusconi is without apology dirty and gritty. Their arrangements are full of surprise with many avenues taken to breathe new life into these modern day classics. Stefan Rusconi and bassist Fabian Gisler often switch roles playing melodies, riffs, and bass lines separately or together while Claudio Strüby lays down tight grooves throughout.
In each track there is always something recognizable for true SY fans to grasp onto with varying levels of departure into spontaneous and unexpected material. Rusconi covers SY music spanning from 1986 through 2004. As Stefan Rusconi explained, It's a Sonic Life shows what jazz can sound like today. This album will surely appeal to a new fan base who might be less familiar with jazz trios and pleasantly surprised how hard they can rock.
Listen to the CD
PS: Rusconi received the German ECHOE award 2011 for the "instrumentalist of the Year national "!
xxxxxxxxxxxxxxxxxxxxxxxxxxxxxxxxxxxxxxxxxxxxxxxxxxxxxxxxxxxxxxxxxxxx