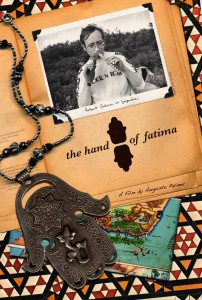 This personal documentary about music critic Robert Palmer and his musical family, The Master Musicians of Jajouka, was a Critic's Pick at New York Magazine, who called it "deeply compelling." The documentary, which screened at New York's Anthology Film Archives as well as at a broad range of film festivals in 2009 and 2010, features interviews with Anthony DeCurtis, Stephen Davis, Donovan, Bill Laswell, Yoko Ono, Genesis P. Orridge, and Randy Weston as well as a performance by The Master Musicians of Jajouka led by Bachir Attar. Directed by Robert Palmer's daughter, Augusta Palmer, The Hand of Fatima combines live action footage of the her 2007 visit to the village of Jajouka with animations and archival images that bring to life her father's 1970s experiences in the Moroccan village of Jajouka, as well as his subsequent trips there with Ornette Coleman and others.
Buy the DVD now on Amazon.com or Buy it at The Hand of Fatima website
Called "the world's only 4,000 year-old rock band" by William S. Burroughs, the Master Musicians of Jajouka and their remote village in the foothills of Morocco's Rif Mountains have fascinated artists and writers since Burroughs and his friend Brion Gysin wrote novels featuring the village. The Master Musicians gained even greater notoriety when Rolling Stone Records released Brian Jones Presents The Pipes of Pan at Jajouka in 1971, an album  made from field recordings made and mixed by Brian Jones before his death.

The DVD includes interview extras with Lenny Kaye, Lee Ranaldo, John Giorno, Ned Sublette, and many more. There's also unseen performance footage of the Master Musicians of Jajouka led by Bachir Attar, performing in their village under the stars.

Find out more about Robert Palmer and the Hand of Fatima:
http://www.nytimes.com/2009/11/16/arts/music/16palmer.html
http://www.newyorker.com/arts/reviews/film/the_hand_of_fatima_palmer
http://www.memphisflyer.com/SingAllKinds/archives/2009/10/09/indie-memphis-outtakes-the-hand-of-fatima