Text by Sohrab Saadat Ladjevardi
Is music made only for entertaining people? Is music just a commercial product? Is music something deep and important in our lives? Why do we still need music? How do you feel about music in general? What's your answer?
It s is widely known that the power of music influences people's mood and  creates scenes, routines and occasion in their lives. From Plato to Adorno who portray music in their social theories as an influence on character, social structure and action. A Tribe Called Red is a good example for what DooBeeDoo believes in and why it has been supporting music acts like them:… The basic thrust of the editorial content is that a social awareness can be fostered through music.
Last month, Guillaume Decouflet made his way to the Electric Pow Wow in Ottawa and sat down with A Tribe Called Red to talk party music, urban indigineity, and upending racist stereotypes through multimedia artwork. Cluster Mag is proud to host Decouflet's account of the experience; a short film-documentary assembled from his interview, a little bit of party footage, and the audio-video work of Bear Witness, one of ATCR's three members.
The film maker speaks about this film
In Canada, it is rare for First Nation stories to end up as central talking points within the country's wider political and artistic discussion. Usually, representations of indigenous people are either confined to historicist images of the 16th century 'savage', or to the disturbing realities of alienation on the reservation. It seems there's been little space left on the cultural plane for representations of an empowered urban youth, one that is not relegated to history books or to the reservation. Through their re-interpretation and sampling of traditional music, their witty, appropriative video art, and their infamous Electric Pow Wow parties, Ottawa-based A Tribe Called Red seem to have found a way to align indigenous identity with urban life.
I recently made my way down to Ottawa from Toronto to attend ATCR's monthly happening known as Electric Pow Wow, a raucous club night where Indians and non-Indians can let it all out in an environment without tension – a somewhat unprecedented opportunity. Wearing their Cleveland Indians baseball caps (one of many cleverly re-appropriated images present at the party) DJ NDN, Bear Witness, and DJ Shub mix one after another for hours to a packed house of over 300 party goers. The tribe waits until the party's raging peak to start laying down Dubstep or electro remixes of traditional Round Dance songs. These are the most exciting moments: when you can look around and feel the crowd's pride for these new local heroes.
These nights are also an occasion for ATCR to make intensely political aesthetic statements through their video and multimedia work.  These visual elements question and subvert popular representations of indigenous people, while providing the dancers with high-fidelity eye candy that transforms the party space. We got together with ATCR the following day to eat good flame-roasted meat.
About ATC, their music and new CD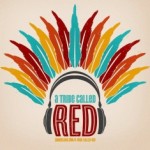 March 28th 2012 – Bursting forth from Canada's capital, native Producer/DJ crew A Tribe Called Red is making an impact on the global electronic scene with a truly unique sound. Made up of three members – two-time Canadian DMC Champion DJ Shub, DJ NDN and Bear Witness – the group has created a signature style called powwowstep, a mix of traditional pow wow vocals and drumming with cutting-edge electronic music. DJ Bear Witness doubles as the crew's visual artist and creates stunning, political and sometimes humorous videos that incorporate film and pop culture references to native people and reclaim the aboriginal image. They're known for creating and running the Electric Pow Wow events in Ottawa, which showcased native talent and aboriginal culture, alongside an open and wild party, and are, in a sense, the most recent evolution of the pow wow event.
Since starting out in late 2010, A Tribe Called Red has gained popularity not only within urban club scenes, but also with the youth on many native reservations. Within a couple years, they became the face of Urban Native youth renaissance, proudly championing their heritage while being on top of popular music, fashion and art.
A Tribe Called Red is ATCR's first album to date and shows the diversity of their production skills, sounds and inspirations including Jamaican music, Hip-Hop, Electronica and of course cries songs and native music. It contains some outstanding songs like "General Generations", the result of a collaboration with UCLA's ethnomusicology department. The track is a reinterpretation of an early XXe cylinder recording of a singer who might be Dj Shub's grand grand-father. "Woodcarver" was written in memoriam of John T. Williams, a Native woodcarver shot by Seattle's police with no charge being pressed against the guilty officer.
Download the album for f r e e:  http://www.electricpowwow.com