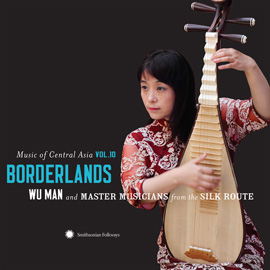 Artist: Music of Central Asia Vol.10: Borderlands:
Title: Wu Man and Master Musicians from the Silk Route
Label: Smithsonian Folkways
Cat.#: SFW40529
Genre: Music of Central Asia
Buy the CD here.
Recommended by Sohrab Saadat Ladjevardi
When I lived in Tokyo, Japan, I was very close to China. Just a couple of hours away from Beijing by airplane. I never felt like going there. Not because of ignorance but of not being attracted by this country. Even Chinese traditional music wasn't my cup of tea. Especially Chinese Opera is something that I can't enjoy so much.
But through my friend, music colleague and DooBeeDoo contributor, 
Jeff Greene
, I found interest in something that was cultivated in China: the music of  the 
Uyghurs
, whose homeland is the Xinjiang Uyghur Autonomous Region in the far northwest of China. His post
The Uighur Dolan Maqam called the Chinese Desert Jazz!
made me aware that there are people in China I can relate to because of my Iranian and Islamic backgrounds.
Now I have a reason to go to China! Please check out this CD and detect a different China.
About the CD
In an unprecedented collaboration, Chinese pipa master Wu Man unites the historical Central Asian roots of her instrument with Uyghur, Tajik, and Hui master musicians. Wu Man's quest to understand the history of the pipa brought her to the Chinese borderlands of the Silk Route, a region of vast expanses of desert, mountains, and grasslands that for millennia have both linked and divided Chinese and Central Asian civilizations. At the heart of Borderlands are the musical traditions of the Uyghurs, whose homeland is the Xinjiang Uyghur Autonomous Region in the far northwest of China. Borderlands introduces three outstanding Uyghur musicians – Abdulla Majnun, Sanubar Tursun, and Hesenjan Tursun. Borderlands also features Hui singer Ma Ersa from China's Northwest Gansu province, and Tajik musicians Abduvali Abdurashidov and Sirojiddin Juraev.
As Wu Man says, "The collaborations made my musical fantasy come true. Together with these musicians, we created a new musical voice…These collaborations on Borderlands made my musical fantasy come true…I often imagined what it would be like if the pipa were mixed with instruments such as satar, tambur and dutar.  I was born in an urban city, Hong Zhou, in the east of China and the Islamic culture of the western part of China always fascinated me.  As a little girl, I learned to sing many Uyghur songs that had been translated into Chinese, and to me they always sounded mysterious and very charming."
She says the collaboration also meant connecting with and acknowledging the roots of her instrument:  "What is known in China as the pipa is one of the Central Asian instruments introduced to China through the Silk Route of the Uyghur region.  As a musician from China, I would be embarrassed if I did not make the effort to know Uyghur music and to work closely with master musicians from Xinjing."
14 tracks, 72 minutes, 48-page color booklet, and photos; DVD contains series introduction, 2 documentary films, interactive glossary, and map.
Music of Central Asia is a co-production of the Aga Khan Music Initiative in Central Asia, a program of the Aga Khan Trust for Culture, and the Smithsonian Institution Center for Folklife and Cultural Heritage. The aim of the series is to present leading exponents of Central Asia's rich and diverse musical heritage to listeners outside the region.