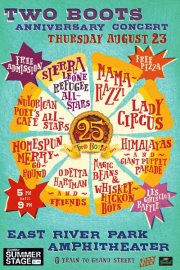 Date: Thursday, August 23, 2012
Time: 5:00pm until 9:00pm
Venue: East Village Ampitheater
Ticket: free
Music by: Sierra Leone's Refugee All-Stars – Mamarazzi – Odetta Hartman & Friends – Himalayas – the Whiskeyhickon Boys
Art by: 4Heads Collective – Free Arts Society – Lizzy Grandsaert & Kat Carrotflower's Live Painting – Homespun Mini-Merry-Go-Round
Performance by: Lady Circus – Nuyorican Poet's Cafe – Magic Beans – The Puppeteer's Cooperative
Two Boots, born and bred on the Lower East Side, is presenting a FREE 25th Anniversary Concert, as the centerpiece of its yearlong celebration of 25 years as NYC's pizza pioneers. On Thursday, August 23rd, Two Boots and Summerstage will join forces at the historic East River Park Amphitheater for the special event, featuring The Sierra Leone Refugee All Stars in what will be a full-evening celebration of food, music, art, poetry and the Lower East Side community that spawned the original Two Boots in 1987.
With a headline performance from the highly energetic African band Sierra Leone Refugee All Stars and supporting sets from emerging talents Mamarazzi, Odetta Hartman, Himalayas and The Wiskheyhickon Boys, the anniversary show promises to be a fantastic addition to Summerstage's stellar 2012 line up. Plus, with the addition of performance groups like Lady Circus and the Magic Beans, live painting by Free Art Society and 4Heads Art Collective, live art by Lizzy Grandsaert and Kat Carrotflower, poetry from the Nuyorican Poet's Café, plus the City Lore/Bowery Poetry Club's POEMmobile and the Homespun Mini-Merry-Go-Round, the evening is bound to be as eclectic and unique as Two Boots' famous Cajun-Italian pizza.
Since its inception in 1987, Two Boots has worked to support its local community, and the Lower East Side will be well represented by the Lower Eastside Girls Club, the Lower East Side Ecology Center and Time's Up. FREE samples of Two Boots' famous cornmeal crust will be available at concession stands, and beer, wine and favorite sparkling drink Fizzy Lizzy will be served as well!
Two Boots was created in NYC's East Village by Doris Kornish & Phil Hartman, two indie filmmakers who loved pizza, beer and all things New Orleans (the two "boots" refer to the geographical shapes of Italy and Louisiana!). With locations now in NYC, LA, Bridgeport, Bard College, Jersey City, Baltimore and soon Nashville, Tennessee, Two Boots brings unique Cajun-Italian cooking, funky folk art and deep commitment to the community wherever they go.