Date: 14 and 15 August 2012
Venue: The Jazz Standard (NY)
Review by Matt Cole and photos by Sohrab Saadat Ladjevardi
On the 14th and 15th of August, 2012, the Dafnis Prieto Proverb Trio played four sets at the Jazz Standard in Manhattan to celebrate the release of their new CD. In addition to the talented Dafnis Prieto on drums, the trio consists of Jason Lindner on various keyboards and Kokayi on spoken word and sung vocals. I caught the second set on the 15th, and enjoying some of the Jazz Standard's food (mac and cheese, fried sweet potato wedges with maple sauce) and drink (the house Blue Smoke ale), I settled down for an hour-plus of entirely improvised music.
Since the music was created on the spot, "spontaneous composition" as Prieto described it, it wasn't the same as what can be heard on the album. The band played for three stretches, a mid-length one first, a very long middle piece, and a short third creation. All took the listener for rides through multiple musical spaces.
Individually, the performances were outstanding. Prieto is a very skilled drummer, and demonstrated throughout the night what happens when fine technique, creativity, feel, and emotion are combined seamlessly. He showed a deft touch on his drums, often creating a sound simultaneously elaborate and pulsating, and even threw down the funk when needed. Prieto also pulled some very interesting tones out of his instruments, including what sounded like cymbal overtones, and almost tonal sounds from his drums. He often looked like he was really enjoying himself, as well he should have with the music that he was in the process of making. Jason Lindner is simply one of the best multi-threat keyboardists around today, and a master of mood and movement; on this night he was responsible for pretty much all of the tonal playing (with the exception of what Prieto could produce from his kit), and threw down a wide range of sounds, ranging from eerie Moog throbs, to compelling soundscapes, to dubby lines, to proggy flights (and sometimes more than one at a time). Kokayi's rhythmic chanting and soulful singing added a strong third side to this musical triangle; he showed great patience in picking just the right spots to jump in and send things to the next level.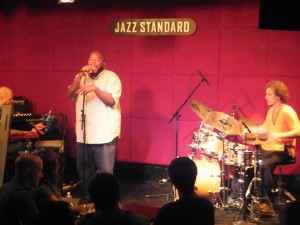 The real strength of this band, however, is how they play as a unit. For a totally improvised band, they were tighter than some heavily-rehearsed bands. Instrumentalists Prieto and Lindner were extraordinarily responsive to one another, essentially playing as one; at times it seemed like they had a telepathic link or Vulcan mind meld between them. Over the course of the evening, the band displayed wonderful range in dynamics, in their sonic palette, in the various tempos and beats and vocal deliveries that they played. In addition to what I've already mentioned, by the end of the night they had at least touched on bouncy Afro-Pop, EDM, and Baroque music. This band is also one of the most patient I've ever seen, making some great slow builds, and Kokayi knew just when to jump in with some rapid-fire spoken words or soulful singing.
In sum, this was an outstanding performance by a fine trio; one would hope that Prieto keeps this project going for a long time; based on their performance at the Jazz Standard, they have a fine future ahead of them.