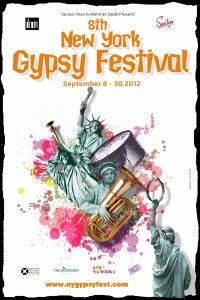 The NY Gypsy Festival celebrates its seventh year with another outstanding performance schedule and a total of nine shows from Sept 8 – September 30, 2012.
Highlights include the return of the mighty Romanian Gypsy band FANFARE CIOCARLIA (their first show in 9 years!), the stunning Andalucian dancer and singer ELENA ANDUJAR from Spain, Balkan funk & jazz masters NY GYPSY ALL-STARS, Italian/Canadian swing-folk artist MARCO CALLIARI and NY's very own eclectic blues-alt band HAZMAT MODINE.
The festival will also feature the flamenco jazz sounds of ARIADNA CASTELLANOS, Canadian party brass band ROMA CARNIVALE, the powerful all-star collective SWAY MACHINERY, the Gypsy cabaret stylings of Portland's SEPIATONIC, Berlin's queen of Balkan Beats, the uber-ecletic DJ IPEK. For the first time this year the festival will include a film screening, a Romani music workshop and a brass battle for the benefit of ZLATNE USTE'S GOLDEN FESTIVAL.
As in previous years, the public can purchase festival passes to the NY Gypsy Festival. The $45 pass gives fans access to all shows during the festival at Drom.
[Please note the passes are NOT valid at the Fanfare Ciocărlia concert on 9/22, which takes place at PACE University]