1. The Old Ceremony @ The Standard, East Village

2. NoReduce

 NY concert series (feat. Nasheet Waits, dr / Raffaele Bossard, dr / Dave Gisler, g / CI, ts)

Dates: 

09/19, 8.30pm, 

Seeds

, Brooklyn

09/21, 8.30pm, 

Ibeam

, Brooklyn

During a joined stay in Jazz-Mecca New York the three Swiss musicians – together with drum prodigy Nasheet Waits (Jason Moran & the Bandwagon, Tony Malaby's Tamarindo etc) brought into life a cooperative quartet, whose debut album distinguishes itself through a breathtaking balance between control and unleashing.. everything. (By Tom Gsteiger)

Read CD NoReduce Jaywalkin' review here.
3. ANDERS NILSSON GROUP
Date: Tuesday, September 18, 2012
Time: 7:30pm
Venue: ShapeShifter Lab (18 Whitwell Pl, between Carroll St & 1st St, Brooklyn, NY 11215,  646-820-9452)
Ticket: $10
Genre: Jazz
This group was put together in 2011 with the main focus on rhythm and the power of repetition. The group plays Anders' original tunes and blends their differing backgrounds in a groovy, open manner. I guess you could almost call it world music, or a mixture of Deep Purple and Moroccan music!
4. RUDRESH MAHANTHAPPA QUARTET
Date: Thursday, September 20, 2012
Time: 9pm
Venue: The Brooklyn Conservatory of Music (58 Seventh Avenue, Brooklyn, NY 11217, 718-622-3300)
Ticket: $25
Genre: Jazz
Featuring: Rudresh Mahanthappa: alto saxophone  Craig Taborn: piano  Francois Moutin: bass  Dan Weiss: drums. Guggenheim fellow and 2012 Downbeat International Critics Poll Alto Saxophonist of the Year, Rudresh Mahanthappa is one of the most innovative composers and performers in jazz today, fusing the musical culture of his Indian ancestry and jazz with myriad other influences to create a groundbreaking artistic vision.
5. Isamu McGregor Band & Geoff Countryman and The Buffalo Band
Date:
 Friday, September 21, 2012
Time:
 8pm & 9:30pm
Venue
: 
The Firehouse Space 
(246 Frost St., East Williamsburg, Brooklyn, NY 11211)
Genre:
 Jazz
Isamu McGregor Band is Deen Anbar (guitar), Isamu (keys), Evan Marien (bass), Sangmin Lee (drums)

at 8pm.
"The music that explodes from keyboard player Isamu McGregor and his buddies is no ordinary sound. With the brute strength of a silverback gorilla, the stealth of a Bengali tiger, and the intelligence of a dude with a degree from jazz school, these guys put old-school fusion in a high-speed blender – along with hints of hip hop, modern jazz, rock, soundscapes and Neo-funk. And they blend with reckless abandon."
Geoff Countryman and The Buffalo Band is Countryman – saxes and electronics, Chris Bonner- bass, Sean Fitzpatrick – keyboards, Joe Ancowitz – trumpet, and Spencer Cohen – drums, Tyler McDiarmid – Guitar at 9:30pm.
Geoff Countryman currently plays in Dave Doulgas' Keystone, and is often featured on Saturday Night Live as an occasional band member.Collectively the band has worked with artists such as The Wutang Clan,The Gregory Brothers, Teddy Thompson, Jim Keller and Ronnie Spector among many others. The Buffalo Band is a direct byproduct of GeoffCountryman's diverse experience within the music world, from being theengineer behind grammy nominated records to being featured on film,television and Broadway. With the Buffalo band you'll hear hints ofthe Beatles and Curtis Mayfield, though Stanley Turrentine and Brian Blade's influences are clear. The music is a melding of both jazz and commercial music with varied focus on melodies and minimalism while being combined with modern sonic interplay.       http://www.geoffcountryman.com
6. Toubab Krewe presents "MUSICIANS FOR MALI"- A CONCERT BENEFIT!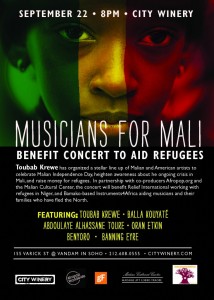 Date: Saturday, September 22, 2012
Time: 8pm
Venue: CITY WINERY (155 Varick Street, between Spring & Vandam, NYC)
Ticket: contribution
Genre: Jazz/African Jazz/World
Many of us who know and love Mali and its extraordinary, internationally celebrated artists have been emotionally torn by the tragedy that has unfolded there over the past year. It's easy to feel dismayed and helpless but now there is something you can do, either in person or online.
By way of background, an influx of armed Tuareg fighters from newly fallen Libya and a military coup in Bamako, the Malian capital, destabilized the country in the early months of 2012.  At first, Tuareg rebels seemed to take control of the Malian north—including the cities of Timbuktu, Gao, and Kidal–declaring it an independent entity called Azawad. But, the better organized Islamist militants of Ansar Dine took advantage of the situation and managed to gain the upper hand. The Islamists now rule in the north, imposing the harshest form of Shariah law, which most locals find  contrary to Islam, banning music, restricting the lives of women, and digging themselves in militarily, should anyone wish to challenge them. Criminality is rampant as homes are being robbed or just appropriated, and flocks stolen. Refugees continue to stream out of the region on a daily basis. With Mali's own government in flux after the coup, it is difficult to see how the political conflict will be resolved. Meanwhile, the refugees need immediate help, and they are the focus of this event.
Toubab Krewe, the fantastic Africa-inspired band, has organized a stellar line up of Malian and American artists to celebrate Malian Independence Day, heighten awareness about the ongoing crisis in Mali, and raise money for refugees. Afropop is partnering with Toubab Krewe and the New York based Malian Cultural Center to co-produce the "Musicians for Mali" benefit concert on Saturday Sept. 22nd at the City Winery. The concert will raise funds for Relief International working with refugees in Niger, and the Bamako-based Instruments4Africa which focuses on aiding musicians (and their families) who have fled the North.
Featured Artists will be:
Toubab Krewe: Some music cannot be found on a map or within iTunes categories. Some music is so original it seems snatched from the great, invisible substrata that runs below all human activity, a sound aching to be born without a flag or fixed allegiance – free, questing, overflowing with tangible life. This is the music of Toubab Krewe. the vibrant Asheville, NC-based powerhouse that creates a sonic Pangaea that lustily swirls together rock, African traditions, jam sensibilities, international folk strains and more. While nearly impossible to put into any box, it takes only a few moments to realize in a very palpable way that one is face-to-face with a true original who recognizes no borders in a march towards a muscular, original, globally switched-on sound.
Balla Kouyate: Balla Kouyate is considered to be among the greatest balafon players in the world today. A virtuoso, he plays two instruments to get a chromatic scale, allowing him to play any genre of music in any key. His speed is astounding as he moves effortlessly between the two balafons, delivering his signature roulements and complex improvisations. Balla has been featured on at least 45 albums, including Angelique Kidjo's Grammy-nominated 'Oyo' and Yo-Yo Ma's Grammy-winning 'Sounds of Joy and Peace', and has collaborated with Mamadou Diabate, Susan McKeown, Vusi Mahlasela, Roswell Rudd's MALIcool ensemble, and Schlicht's Tempore.
Abdoulaye Alhassane Toure: Abdoulaye Alhassane is a brilliant multi-instrumentalist, composer, arranger, and producer from Mali and Niger. Abdoulaye is a master of the music of many Saharan cultures and languages: Songhai, Sonrai, Tamaschek, Peul, Toureg, Zerma, Hausa, and others. His original music is rich in complex rhythms, beautiful blue modes, and full of joyous enthusiasm.
Oran Etkin: Described as a "great clarinet player" and an "excellent improviser" by the New York Times music critic Ben Ratliff, Oran Etkin has performed around the world with musicians ranging from guitarist Mike Stern and pianist Gonzalo Rubalcaba to rapper Wyclef Jean. Through years of experience in a myriad of musical cultures, Etkin has developed a unique sound on the clarinet, bass clarinet and saxophone that draws on ancient traditions from Africa, Israel, New Orleans, and beyond.
Benyoro: In the Bambara language of West Africa, Benyoro means meeting place, and that's exactly what this group is. It's about the meeting of traditional and modern instruments, African and American musicians, and centuries-old songs and modern arrangements.
Banning Eyre: Banning Eyre is an author, guitarist, radio producer, and Senior Editor at Afropop. He has been researching and learning African guitar styles for over 20 years, including a seven-month apprenticeship with Malian guitar master Djelimady Tounkara. Eyre has developed an original composition and performance style that incorporates traditions from Mali, Congo, Zimbabwe, Madagascar and beyond, along with his own background in American finger-style guitar. He performs with the band Timbila, and with various musicians playing African music in New York City.
About our Beneficiaries:
Relief International responds to the world's worst humanitarian crises. Since 1990, Relief International has been committed to partnering with communities in need and transforming victims of vulnerability to empowered participants in sustainable development. Relief International is responding to the needs of over 15,000 Malian refugees in northern Tahoua province of Niger by providing assistance in food security, health and hygiene, shelter. Click HERE for more info.
Bamako-based non-profit Instruments4Africa is committed to cultural preservation, helping artists keep their practice alive so they can continue to empower their communities. The organization is currently assisting families of displaced traditional artists from the North. Families receive food, medicine, school fees, until they can get back on their feet and provide for themselves. They also help artists find gigs and connect them to agencies offering additional assistance. Funds raised will enable the organization to significantly expand the number of families they serve. Click HERE for more info.
Event Co-Producers
Toubab Krewe has been traveling to West Africa since 1999, and to Mali since 2004. Touring internationally since 2005, the band played Mali's legendary Festival au Desert in 2007. With many friends, teachers, and collaborators living in Mali and affected by this crisis, the band felt called to do something to help. Inspired by the encouragement of Toumani Diabate, Toubab Krewe's Luke Quaranta envisioned and launched "Musicians for Mali".
Afropop Worldwide is the award-winning, nationally syndicated public radio program that has introduced American listeners to the contemporary music cultures of Africa and the global African Diaspora since 1988. Because of Mali's exceptional range of spectacular musical talent, Afropop has reported from Mali more than any other African country. Afropop.org offers on demand audio, the Hip Deep series, video, a daily blog, NYC events calendar and extensive archives on African music.
The Malian Cultural Center is a 501(c) 3 non-profit organization that serves as a platform for cultural immersion for American youth born to Malian immigrants, and the empowerment of Malian women in New York. The Center's programs focus on building strong families, capable children, and supportive communities. Click HERE for more information.
For more information and to purchase tickets, click HERE.
If you can not make our "Musicians for Mali" benefit on Sept. 22nd, we encourage you to support the work of Relief International and Instruments4Africa by making a direct, tax deductible contribution to their targeted Malian refugee programs through the links above. Thank you.
7. Alon & Words Beyond Trio
Date: Saturday, September 22, 2012
Time: 8pm
Venue: The Firehouse Space (246 Frost St., East Williamsburg, Brooklyn, NY 11211)
Ticket: $10
Genre: Jazz
Alon & Words Beyond Trio
Alon Nechushtan – Piano, Dan Weiss- Drums, Francois Moutin – Bass, special guest: Donny Macaslin -Sax
" A talent to watch, with a surfeit of ideas, an unbridled spirit and bold, two-fisted sense of Architecture" -(Down Beat magazine 2011)- Pianist and composer Alon Nechushtan will be bringing  a quartet of fantastic improvisers with a loose-tight chemistry placing a premium on group interplay at the same time encouraging individual solo expression. —Bill Milkowski