Date: Thursday, November 1, 2012
Time: 8pm – 9pm
Venue: ShapeShifter Lab (18 Whitwell Pl, between Carroll St & 1st St,Brooklyn, NY 11215, 646-820-9452)
Ticket: $11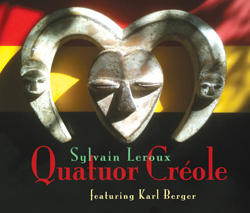 On Thursday, November 1, 2012 Downbeat Rising Star
Sylvain Leroux
will present a live performance of his latest project "Quatuor Creole" featuring legendary vibist
Karl Berger
. Released in June, the CD has been well received by critics, eliciting such comments as: "… perfect contemporary music release…" (Dustin Garlitz, 
JazzTalent.com
); "… gentle as a river in the afternoon sun." (Thurston Hunger, KFJC); "… worthy addition to the canon of the world- jazz…" (Hrayr Attarian, All About Jazz); "… mellifluous acoustic quality…" (Howard Mandel, Jazz Beyond Jazz); "…belongs to a lineage of precious recordings […] such as CoDoNa, Oregon, Steve Wilson, Don Cherry, Dollar Brand and Chico Hamilton…" (Dan Behrman, Magazine Son & Image–translated from the French).
With Quatuor Creole, Leroux reexamines the fusion of European and African music that took place in the Americas and informs it with his deep experience.
Line up:
Sylvain Leroux: flute, tambin (Fula flute), alto sax, donzo ngoni
Karl Berger: vibraphone, piano
Matt Pavolka: bass
Sergo Decius: congas, percussion
A quote from from the DooBeeDoo CD review: There are several highlights through out Quatuor Creole. The constant contrast between the western and world influence is always at the heart of the matter. This is best exemplified by Leroux's constant switching between the Tambin flute and your everyday western flute. Read complete review here.