Text by Sohrab Saadat Ladjevardi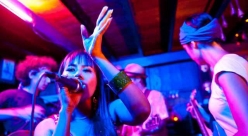 It's been a long time I haven't heard from my contributor Sean Hockings who still resides in Hong Kong, still running his label Metal Postcard Rec, and hopes to bring China and SE Asia's underground music scene to a wider world. Today he mailed me a YouTube video and the press kit of a very interesting Cambodian alternative rock band called  The Cambodian Space Project. Enjoy!
Text by Sean Hockings
News From Metal Postcard Records
Phnom Penh: The Berlin Of SE Asia?
OK we all know Phnom Penh doesn't have Berghain or for that matter 95% of the world's electronic musicians crawling out of darkened studios and bars at all hours of the day or night.
Not withstanding all those migrating visual artists, writers and film makers looking for a bit of fun and cheap rent.
But now the formally sleepy city of Phnom Penh is waking up from years of terror, Vietnamese rule and a decade or so of infrastructure re-development to show a new face to the world. That…. of … home to the arts.
The backpackers started visiting in the 90's and now it's writers, film makers and especially musicians who are finding a new semi-permanent home in the city. And why not? There's a new exchange between international artists and locals that's creating and building a bustling arts community. Overseas artists are working with locals to help them re-build an artistic past after year zero and the subsequent years of terror, neglect and the need to simply survive.
More importantly though Cambodian artists and musicians are constantly surprising their international colleagues with their devotion to re-building an older culture as well as re-inventing a new Cambodian culture for the 21st century.
Please direct enquiries to metalpostcard@mail.com
About the band
The Cambodian Space Project are Kampuchea's musical guardians of the golden pre Khmer Rouge era of rock and pop seen through the prism of the 21st century. The band only formed 3 years ago initially to safeguard the history of Cambodia' glorious pop age of the late 60's and early 70's. The band have since become somewhat of a sensation on the international stage.
It all started with the simple idea of releasing the country's first vinyl release since the accession of the Khmer Rouge to power in 1975. Now a single and two albums later the band are feted around the world by critics and audiences alike.  2012 has been a busy year for the band with  a visit to  Australia where they played the Melbourne Festival's  "Spiegletent"; the closing party at Tasmania's Mona Foma Arts Festival and then onto play Womadelaide. Over the summer they undertook a  European tour that included an invitation to play the BT River Festival in London, the Cite De Lausanne Festival and then followed up by dates in Spain, France and Italy. Then back to Asia in September and hanging out with Nick Cave at the Bali international literary festival! As well as completing a project with one of Australia's leading singer songwriters', Paul Kelly.
2013 looks no less busy for the band. They have for the second  time been invited to play SXSW in Austin Texas and are in discussions to play major arts venues in both Washington DC and New York. This will be followed by a European summer tour  which will take in some major festivals as well as dates in Sweden, Denmark and Iceland. There's also plans to work with  Michael Laub at the HAU theatre in Berlin. But before Christmas it's down to Indonesia for a quick tour with local pop heroes White Shoes.
The BBC has also decided to commission German filmmaker, Marc Eberle, a  resident of Phnom Penh to complete his full length documentary on the band to be broadcast on BBC 2 and BBC6 as well as  to be suggested for international film festivals and distribution.
There's also a new album in the pipeline !