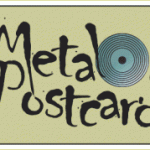 Text by by Metal Postcards Rec's Sean Hockings
Any record store freak worth their while will already know about Tokyo's endless mini record stores that only stock the Beatles oeuvre or another that might only stock Can reprints etc. We thought you might also like to be made aware of the few other shops that we've come across that might help you feed your desire to find Asian rock , electronic and underground tunes
THAILAND
First up (pictured) is Zudrangma Records label and shop based in Bangkok. If you are a London resident think Thailand's answer to Sounds of The Universe just off Berwick St.  This lot have spent a number of years compiling great Thai Funk, Molam, Luk Thung, Issan  and many other genres you haven't heard of before; mainly sourced from the 60's and 70's. We also gather that the shop also holds vinyl of their source material and puts on events  Well worth a visit if you are in Bangkok. If you need a fix and are UK based just pop along to Honest Jon's in Ladbrooke Grove who try and bring in most of their releases.
HONG KONG
Hong Kong has a couple of indie record stores and half the fun is searching them out . For those of you on Hong Kong island hop on the MTR to Causeway Bay (Times Square) where you'll walk around a little before you find White Noise Records …….and as i don't want to make it too easy for you check our link for the store to find the location. One word of warning it is on the 19th floor but the lifts do generally work!  Operated and owned by Gary Leung the store specializes in underground music from around the region and especially from Japan as well as stocking a selected number of rather obscure US & European imports. Gary does know his stuff, so if he's behind that stack of wobbly cd's do engage him in conversation.
Kowloon side it's worth a quick shufty over to Harbour records. The best place to pick up all your My Little Airport obscurities. It's rather lilliputian space but you can blame previous landlords for that who decided to double their rent after they'd attempted to make their previous shop look nice..god forbid!
CAMBODIA
Phnom Penh doesn't really have any record stores per se but, Channthy, lead singer of the Cambodian Space Project has opened a little boutique in town called Sticky Fingers than stocks CSP prints etc and a small amount of vinyl.
The other place to head to is the Russian market where you'll find a number of DVD stores that also sell music CD's  and also look for The Vintage Shop who basically do the same as above.
SHANGHAI
Uptown Record Store at XingFu Lu has been open since the summer of 2011. Their primary focus is providing vinyl  to the local music community with an emphasis on local  independent music.  Here you'll  find a wide selection of genres from rock, electronic, disco/funk, soul, hip hop, and everything in between. They also host free in-store performances and art events.
BEJING
Has a few record stores . You can try the originally named Indie Music ! (Gulou Xi Dajie). The shop has a decent selection of imported CDs starting at a very reasonable 45RMB. The owner's tastes clearly stretch to the leftfield of indie as evidenced by a number of discs from  labels like Ninja Tunes. And he also squirrels away more stock at his house (ask to see a list). Beijingers who struggle to find vinyl elsewhere will be thrilled to see four cardboard boxes bulging with records covering rock, metal, hip-hop and more. There's also C Rock Records  on Gulou Dong Da Jie which is worth checking out for local releases.
Taiwan
We've left the best till last. Well .. it might not be the best store. But  without a doubt it has the best name. If you happen to be in Tapei , and who isn't from time to time!  We've been told that the fabulously named White Wabbit Records is the place to get your indie music fix