A TALE OF TWO CITITES: NEW YORK & PITTSBURGH…
BLACK AUGUST B'EARTHDAY CELEBRATION…
HONORING RUSSELL MAROON SHOATZ'S 70TH BIRTHDAY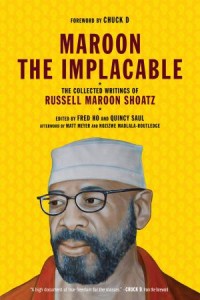 On August 23 & 24th, 2013, from 7pm-9pm, the Campaign to Free Russell Maroon Shoatz, in collaboration with Scientific Soul Sessions, Movement in Motion, and Human Rights Coalition-Fed Up! will be hosting events in Pittsburgh and New York City to celebrate Maroon's 70th birthday.
Maroon, who has spent close to 30 years in solitary confinement in the state of Pennsylvania, is a crucial symbol in the growing movement against the long-standing practice of solitary, which amounts to unconstitutional torture under international human rights law.
His case, currently being reviewed by the United Nations, is under heavy scrutiny as he has been relocated to a lower-security facility at SCI-Mahanoy, whose administration has recommended that he be released into general population. It is only Pennsylvania's Department of Correction (DOC) Secretary John Wetzel that stands in the way of Maroon's freedom from torture.
The dual-city event will feature artists and speakers from across the country committed to building a unified national movement to end torture and solitary confinement.
On August 23rd at Pittsburgh's Union Project, Onyx Award-winning actress and nationally recording performance poet Vanessa German will share the stage with koto master Yumi Kurosawa. New York City-based spiritchild of Zulu Nation will also perform, along with baritone saxophonist and composer Benjamin Barson. Joyce Wagner form Iraq veterans against the war, and Bret Grote of the Abolitionist Law Center, will lend commentary to the event.
On August 24th at the National Black Theatre in Harlem, New York, guests will experience a special invited guest poet, NEA award-recipient and American Book Award Winner Sonia Sanchez alongside the Grammy-award winning pianist and Latin jazz master-composer Arturo O'Farrill. spiritchild will return with his acclaimed hip-hop jazz outfit, Mental Notes, and the youth artists of Art Start. Award-winning hip-hop journalist Rosa Celemnte will be speaking as well. Finally, movement in motion's and Zulu Nation's visual artists, ziedah diata and xen medina, respectively, will grace the theatre with aesthetic tributes to Maroon.
Reserve tickets at WWW.SCIENTIFICSOULSESSIONS.COM
Related Posts
Book Release Event Review: Russell Maroon Shoatz "Maroon the Implacable" – The Book Launch of An American Political Prisoner.
Event review: Questions, Challenges And New Visions In A Conversation Between Fred Ho & Eric Mann