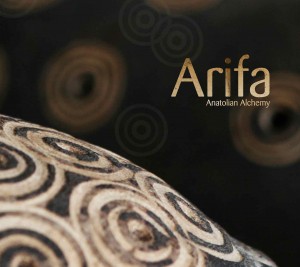 Artist: Arifa
Title: Anatolian Alchemy
Label: Mundus
Genre: oriental jazz
Review by Matt Cole
Anatolian Alchemy is a new CD from multinational band Arifa, which consists of Alex Simu (Romania) on clarinets and laptop, Mehmet Polat (Turkey) on oud, Franz von Chossy (Germany) on piano, and Sjahin During (Turkey/Holland) on Afro Anatolian percussion. It is a gentle group effort which relies mainly on subtlety, space, and communication to make its points.
Stylistically, the album draws from a number of influences, often at the same time. The song "Dahab" provides an example of this, with Middle Eastern sounds combining with Western Classical notions for a new whole, which seems to have a Downtown sensibility informing the mix. "Dacian tale" flirts with New Age territory, with a definite hint of Turkey in the background. Album opener "Maktub," and penultimate track "Bergamot flower" both made me think of Philip Glass' compositions, with moving, shifting arpeggios in different, but interlocking rhythms in odd, angular time; parts of the latter also reminded me of the Nils Wogram Septet album I reviewed some months ago for DooBeeDooBeeDoo. As a whole, the album retains an ethereal feel, combining its components into a whole without letting any of them become too dominant.
One of the most notable qualities of this album (and this band) is the use of subtle shifts and changes in many aspects of the music. "Fingerprints" and the title track, "Anatolian Alchemy" provide good examples of how the lead can change effortlessly between instruments, and also how the recap of a certain section of a song can see the lead shift from one instrument to another, with a resulting change of coloration. "Fingerprints" also shows how the various instrumentalists can shift between roles, seamlessly trading between leads, chords and arpeggios, and atmospheric layers or rhythms, as well as how good the band is at sharing space and volume control (without which the delicate music would be overwhelmed). "Red ink" is another good example of this, and is a particularly good demonstration of how well these diverse musicians support each other in the service of the musical whole. Along these lines, at times, the tonal instruments will play lyrical lines in unison (notably on "Kids play"), and at other times, there may be a little subtle tension between parts ("Dacian tale," "Fingerprints," "Anatolian alchemy," the latter of which sees some interesting playing with time by the oud.)
Within the songs, the music often makes very smooth shifts between sections, with a quiet dreamy moment ceding effortlessly to a more melodic or rhythmic mood, while maintaining seamless continuity. This is especially apparent on "Maktub," "Manu'du," and "Dahab." On a larger scale, most of the pieces segue very nicely into each other, especially during the first half of the album, making it feel like an organic whole rather than a haphazard collection of individual pieces.
The individual musicians' performances on Anatolian Alchemy are very good, showing high technical ability and feel without being obtrusive enough to encroach on the group- and music focus that is most apparent. Pianist Franz von Chossy takes both the lead and support roles adeptly, sometimes filling two spaces, at other times locking in with the rest of the band, and occasionally strumming the piano strings to add a dreamy feel to the proceedings. Clarinetist Alex Simu has beautiful tone, excellent volume control, and plays some lovely lyrical lines. Oud player Mehmet Polat locks in well with the band when appropriate, and creates the occasional rhythmic and temporal tension when needed. And percussionist Sjahin During's often spare and spacious playing nonetheless gives the band all the propulsion it needs.
In all, this is a well-crafted, gentle, and lyrical creation from a fine group of musicians. My only caveat would be that if you are in the mood for uptempo, high energy music, this may not be the album you're looking for, as only "Dacian tale," "Fingerprints," and "Anatolian Alchemy" even come close to fitting that description. But if you like subtle, spacious, and cohesive music that is interesting enough to reward close listening, but mellow enough to also provide background atmospherics, than you will probably thoroughly enjoy Anatolian Alchemy by Arifa.
Related Post
Concert Review: Arifa…a lush and joyful tapestry of sound filled the air