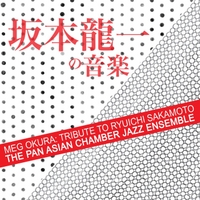 Artist: Meg Okura & the Pan Asian Jazz Ensemble
Title: Music of Ryuichi Sakamoto
Label: self released
Genre: chamber jazz
CD Review by Matt Cole
As I'm not very familiar with the music of Ryuichi Sakamoto, I would seem to be an odd choice to review a CD of his compositions. However, given that Meg Okura & the Pan Asian Chamber Jazz Ensemble have created a jazzy re-imagining of Sakamoto's synth pop creations that is apparently quite different from the original, I may be more able to hear and then review the album without preconceptions (perhaps like sending someone unfamiliar with Ayler to review New Grass, which, curiously enough, was my own introduction to Ayler). The selections on the CD cover a near-20 year span, from his 1978 debut "Thousand Knives" to 1997's "Untitled #01″ (on this album as "Grief"). Violinist/arranger Meg Okura, in the liner notes, writes that a number of arranging techniques and approaches were used, with some pieces remade anew (e.g. "The End of Asia," "Thousand Knives"), while others hew close to the original ("The Last Emperor Theme").
The Pan Asian Jazz Ensemble consists of five New York musicians: Okura on erhu in addition to violin and arrangements; Anne Drummond on flute and alto flute; Helen Sung on piano; Dezron Douglas on bass; and E.J. Strickland on Drums. As an ensemble, they are very tight, together, and nimble, capable of shifting the feel or even genre of the music on a dime, somehow doing so in a way which is both smooth and abrupt. Opening track "Grasshoppers" is a good example of this, opening with a prepared-sounding piano, joined by the bass, flute, and percussion in unison, then joined by a light, jazzy violin; then the piece shifts over to a more impressionistic-sounding section which includes some nice solo flute by Drummond. Then we move through a rock feel, into a jazzy piano trio with the flute and violin contributing lyrical leads, and back to the odd-metered beginning, with variations not on the melody, but on who is playing which part (another interesting approach which shows up in more than one place).
"Riot In Lagos," like "Grasshopper" an acoustic version of an electronic piece, is another example of this, and also a good example of the Pan Asian's ability to use space to good effect. "Riot" starts with dramatic, yet spacious piano in a slightly unsettling, perhaps angular time, and then morphs into a light funky jazz sound, almost like what's called contemporary jazz, but with some bite. In this piece, some parts sounded like they were from Nublu, some like they originated in Shapeshifter Lab, and others like they came from a mellow radio station; and often at the same time. Then the band makes a shift to a rock feel, with a subtle counterpoint going on between the lead and bass lines.
The album has a nice flow to it overall. Gentle pieces such as "Merry Christmas, Mr. Lawrence" and the cheerful "You've Got To Help Yourself/Ishin Denshin" are sandwiched around the dramatic "The End of Asia," keeping things interesting while demonstrating the range of the band. Likewise, "The Last Emperor Theme" (which definitely sounded familiar upon first hearing, as I didn't look at the song titles until after), a spacious piece with hints of early 20th Century Impressionism and Madras violin complementing a jazzy feel, is followed by "Thousand Knives," which made me think of a nuanced '70s fusion piece which sounds like it should have been in a good movie, which in turn is followed by the more spacious "Helen's Intro," which is also another good example of the band's ability to be all over the place style wise, yet in a coherent, logical (almost dream-logical) fashion.
Not everything on the album is spacious, however. Funky closing track "Perspective" is a good showcase for the band's ability to have a lot going on at once while avoiding any toe-stepping, and also a good example of the band's ability to use call and response to good effect.
Perhaps my favorite track on the album is "Grief," which starts out with solo violin which sounds almost Irish, but with a hint of South or East Asian note-bending. Okura is then joined by Douglas' arco bass, with shimmering cymbals and low piano, almost in counterpoint to the lead. Then the violin becomes almost Philip Glass-like, and Drummond adds some light, spacious cymbal hits not unlike in the midsection of King Crimson's "Moonchild." The different instruments seem to be playing in different time, but it all meshes together like the gears of a high end Swiss or Japanese watch, sometimes conflating into stretches of unison. We go through melody peaceful lines, contrasted with stormy, but spacious piano textures and cymbal hits, into Sung taking the lead on piano, with prepared timbres, and out and extended piano chords which sounded like the way Outer Space was portrayed musically in the 60s by Sun Ra and other free players. This leads to a four-way call and response between the tonal instruments, another fine example of how there's somehow enough space for everyone in this band during busy times, and a good example of how individual band members are quite adept at entering the fray suddenly, but not alarmingly. The music then goes through several more phases, with an almost dream logic to the proceedings, before it ends. I noted in this song, that the band pulls off a neat trick of having its members play lines or parts that are different but mesh well; that is, each line would go well with something more similar to itself but nonetheless sound great when combined. Between this and the excellent examples of the band's ability to do all kinds of seamless morphing within the piece, "Grief" is a pretty good microcosm of the entire album.
Music of Ryuichi Sakamoto is a fine album on its own merits, with excellent musicianship and arrangements supporting eclectic, and complicated (but not off-puttingly so) musical realizations. There's a lot to this music, and it was not that easy to condense into a review. I suspect that it's also a very interesting interpretation of Sakamoto's originals. I would think that a fan of Ryuichi Sakamoto could go either way on this album, either enjoying the hell out of the creative reimaginings of Sakamoto's pieces, or not being able to deal with the radical reinterpretation of Sakamoto's techno pop. Or perhaps, said notional fan would have both reactions, either simultaneously or successively. Myself, I'm definitely going to have to check out Ryuichi Sakamoto's original music now, having very much enjoyed the Pan Asian Chamber Jazz Ensemble's creative recreations thereof.
Meg Okura & the Pan Asian Chamber Jazz Ensemble CD Release Concert
Date/Time: Friday December 6, 2013 @ 7:00 PM
Venue: Harlem in the Himalayas, Rubin Museum of Art (150 West 17th Street, New York, NY 10011, 212-620-5000)
Tisckets: $18.00 in advance / $20.00 day of Member Price: $16.20