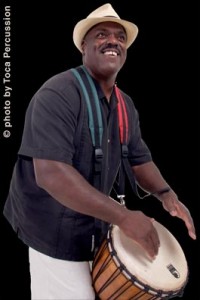 Date: Monday, January 6, 2013
Time: 7:30pm to 11pm
Venue: Clemente Soto Velez Center (107 Suffolk St, New York, NY 10002)
Tickets: $15 per set – $20 for 2 / $5 for Jam // students & seniors: $8 / $15 for 2 / $5 JamSession
Genre: jazz/improv

Featuring drummer Michael Wimberly residency in the first 2 weeks of January with honored guest Charles Gayle.
Raised in Cleveland, Ohio, Michael Wimberly set off for New York in 1982, quickly carving out a niche for himself. It was there he performed in duets, quartets and larger ensembles with unique or experimental instrumentation. For example, with Steve Coleman he collaborated on many projects, live and in the studio. And  he played, toured and recorded with The Five Elements (including David Gilmore and Don Byron). He's been also a member of the SoSaLa music collective in New York.
In addition to being a drummer and percussionist, Michael Wimberly is also a composer and has written for prestigious New York dance companies (Alvin Ailey Dance Theater and Joffrey Ballet). Although his percussive repertoire is replete with traditional rhythms, Michael is known for playing cutting-edge music involving a meld of visuals and audio, not to mention a penchant for contemporary jazz.
Michael holds a Masters degree from The Manhattan School of Music and he is a member of The Collective (formerly Drummers' Collective). He has performed/recorded with P-Funk, Steve Coleman, Mama Tongue, and Charles Gayle.
Schedules
7:30pm – Michael Wimberly & Charles Gayle Duo (Michael Wimberly – drums and Charles Gayle – tenor saxophone)
8:45pm – New York Ensemble (Andrew Lamb – tenor, Will Connell – alto, Andrew Bemkey – piano and Michael Wimberly – drums)
10:00pm – special jam session led by Michael Wimberly
Related Posts
NY Musician Feature: Michael Wimberly (P.2) – 2 book releases, 1 video interview and 2 workshop videos!