Featuring: Roswell Rudd, John Tchicai, Milford Graves, Reggie Workman, Amiri Baraka with: Steve Lacy, Pierre Dørge and Ben Young. – Guests: Evan Patrick, Verna Gillis, Lois Graves, Thurston Moore, David Murray, Maya Milenovic Workman, Margaret Naber and Yolo Tchicai
The U.S. premiere will take place on Friday evening, January 31, 2014 at the Library of Congress in Washington, D.C. The world premiere of The Breath Courses Through Us took place at the FIDMarseille-Festival International de Cinéma
(http://www.fidmarseille.org) in Marseille, France, in July 2013.
The Breath Courses Through Us (2013) is a documentary film by Alan Roth about the early 1960s avant-garde jazz group, the New York Art Quartet. The film focuses on the group's 35-year reunion, while reaching back through their recollections of their foundations and innovative musical ideas. The year 2014 is the 50th anniversary of this group, and a revolutionary period in jazz music, which declared its existence in the October Revolution in Jazz, in October 1964.
The Breath Courses Through Us mirrors the newly open improvisationary style of "free jazz" that subverted the traditional structure of jazz. Unfolding in free time and enveloped in their music, the film helps the viewer better understand the human element of the creative process, by focusing on their interactions in the present.
The New York Art Quartet was a pioneering jazz group in the early 1960s. Consisting of John Tchicai (saxophone), Roswell Rudd (trombone) and Milford Graves (percussion), the group formed in 1964 and lasted only until the end of 1965. This core of three worked with many bass players, including Reggie Workman. Poet Amiri Baraka often read his poetry at their gigs, and read his famous poem, Black Dada Nihilismus, on the group's first album. Both Workman and Baraka joined the New York Art Quartet for the group's reunion and are featured in this film as well. The late saxophonist Steve Lacy, guitarist Pierre Dørge of the New Jungle Orchestra (Denmark), and WKCR jazz historian Ben Young puts everything into historical perspective.
About the director and his team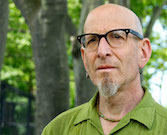 Alan Roth, director, producer & editor
Alan Roth is based in Brooklyn, New York. His filmmaking career began in mid-life, after a career in the U.S. Postal Service in Cleveland, Ohio. The Breath Courses Through Us is the second of Roth's examination of free jazz. His first film, Inside Out In The Open (2001), is one of the few documentary films on free jazz. It features interviews with 11 free jazz musicians along with live performances and continues to be screened worldwide.
Besides these two feature documentary films, he is the video director for Women's Power Against HIV/AIDS: Love, Sex, & Choices, an innovative on-line project that uses soap opera stories to educate urban Black women about HIV prevention. Roth also creates shorter video works, with an emphasis on culture and geographic place.
Cameras
Ronald K. Gray
Alan Roth
Additional Cameras
Jonathan Lia
Samantha Longoni
Zach Sherzad
Richard Sullivan
Image Edtor
Cristian Manzutto
Sound Editor and Mixer
Cristian Manzutto
estudio de sonido /mexico city
Color Correction and Post-Production
estudio de producción /mexico city
Reference Mix
John Michael Swartz
Sound Recordist
J .T. Takagi
Associate Producer
Luisa Pretolani
Production Manager
Mica McCarthy
Additional audio mixing & Photo Preparation
John Michael Swartz