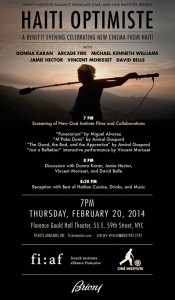 Fashion Designer Donna Karan, Rock Band Arcade Fire, Actors Michael Kenneth Williams (HBO's Boardwalk Empire) and Jamie Hector (HBO's The Wire), and Video Director Vincent Morisset to join Gala Benefit Evening Supporting Haiti's renowned Ciné Institute.
Date: Thursday, February 20, 2014
Time: 7pm
Venue: FIAF · Florence Gould Hall; 55 East 59th Street, NYC
The French Institute Alliance Française (FIAF) and Ciné Institute are thrilled to announce the return of Haiti Optimiste, a festive and star-studded event to benefit Haiti's renowned film school.
Founded in 2008 by filmmaker and activist David Belle, Ciné Institute is a tuition-free school that provides college education and employment opportunities to underprivileged Haitian youth. Recognized and supported by leading international filmmakers such as George Lucas, Francis Ford Coppola, Sean Penn, and Paul Haggis, the Institute is an important force in growing Haiti's local film business and creative economy.
To help Ciné Institute carry out its work and pay tribute to its vibrant contribution to Haiti's culture and economy, FIAF will host an evening of film screenings and discussions with distinguished leaders in the film industry on Thursday, February 20, at 7pmin FIAF's Florence Gould Hall. The evening will include a screening of films from the Institute, followed by the announcement of the new Brioni film fund and a Q&A with Ciné Institute supporters, fashion designer Donna Karan, Arcade Fire video director Vincent Morisset, and actors Michael Kenneth Williams (HBO's Boardwalk Empire) and Jamie Hector (HBO's The Wire). Members of the Grammy Award-winning rock band Arcade Fire will also be present for the evening.
The celebration will continue with an exclusive cocktail reception in FIAF's Tinker auditorium. Guests will be treated to delicious Haitian treats by notable New York City Chef Elle Philippe.
Ciné Institute founder David Belle said, "Our annual gathering to celebrate young Haitian talent at FIAF is always the high point of the year for us. Haiti Optimiste allows us make a vital institution for arts and creativity in Haiti stronger and stronger each year. We couldn't be more grateful to our co-hosts, Donna, Michael, Jamie, and Vincent, to FIAF, Brioni, and to all the event attendees for their extraordinary support."
"FIAF and I have had a close relationship with Haiti since our World Nomads Festival celebrating Haitian culture in 2009," said FIAF President Marie-Monique Steckel. "After the 2010 earthquake, we worked closely with David Belle and his Ciné Institute on a very special project to help rebuild the institute so it could continue to educate Haitian youth about film, technology, and media. I went to Haiti after the tragedy and was touched and inspired by the incredible mission David Belle promotes and the many students who benefit from his diverse programs. What began as fundraising efforts to help them rebuild has evolved into a dynamic partnership."
About David Belle
David Belle first travelled to Haiti in 1993 as a young filmmaker, helping to bring to light the nation's struggle for democracy, and has been working there ever since. Concerned by the unjust treatment of Haitian refugees, his film work later turned to the plight of immigrants in the U.S. for which he was awarded the Alfred I. DuPont Award, the Pulitzer Prize for broadcast journalism. In 2004 David co-founded Haiti's International Film Festival in the coastal town of Jacmel as a way of supporting the country's creative and tourism industries. David then founded Haiti's national film school, Ciné Institute, to educate and support young local filmmakers. David currently serves as CEO of Artists for Peace and Justice.

About Jamie Hector
Affectionately known as the "coming king of Hollywood", Jamie Hector is an American actor of Haitian descent, famous for his portrayal of Marlo Stanfield on the critically acclaimed HBO series The Wire. He is the co-founder of Moving Mountains Inc., a community-based organization that teaches dramatic skills to at-risk youth, while providing academic, health and counseling assistance. He is dedicated to his craft and is invested in fostering the arts in his community.

About Donna Karan
Fashion icon and humanitarian Donna Karan's desire to address people, not just dress them, led the designer to establish The Urban Zen Foundation in 2007. Urban Zen embraces a holistic "past, present and future" approach to philanthropy, using creativity, connection, and collaboration to achieve its goals. After the 2010 earthquake, Urban Zen launched Hope, Help & Relief Haiti in collaboration with leaders in music, fashion, film, finance and art, and has been an invaluable supporter of Ciné Institute over the years.

About Vincent Morisset
Web-friendly director, programmer, and inventor, Vincent Morisset is widely considered the creator of the first interactive music video ever made, for Arcade Fire's first song, Neon Bible. Vincent also recently directed the group's latest music video, Just a Reflektor.

About Elle Philippe
Chef Elle Philippe is a well-seasoned gastronomy chef and culinary instructor. She grew up in Haiti but spent a good part of her life in France before settling in the United Sates. Chef Elle specializes in French, Italian, and Haitian cuisine. She received her training from the French Culinary Institute and studied food politics at The New School. Elle has traveled the world assisting high-profile clients ranging from prestigious New York City families to the Australian consulate in New York City. Now she has shifted her focus to the private dining experience and specializes in entertaining through Haitian gastronomy. With more than twelve years of experience, Philippe has become one of the most highly motivated and sought-after caterers of haute Haitian cuisine in the New York metropolitan area. She has cemented herself as an expert in integrating traditional Haitian Creole flavors with French cuisine.

About Michael Kenneth Williams
Michael Kenneth Williams is one of television's most respected and acclaimed actors. By bringing complicated and charismatic characters to life—often with surprising tenderness—Williams has established himself as a gifted and versatile performer with a unique ability to mesmerize audiences with his stunning character portrayals. He is best known for his remarkable work on The Wire, which ran for five seasons on HBO. Williams is also co-starring in HBO's critically acclaimed series Boardwalk Empire. Giving back to the community plays an important role in Williams' off-camera life. He has established Making Kids Win, a charitable organization whose primary objective is to build community centers in urban neighborhoods that are in need of safe spaces for children to learn and play.

About the Arcade Fire Reflektor Project
Just a Reflektor is an interactive short film that explores the themes in renowned indie rock band Arcade Fire's latest albumReflektor through two devices simultaneously: the computer and the smartphone or tablet. Directed by Vincent Morisset and filmed in Jacmel, Haiti with the help of Ciné Institute graduates, Just a Reflektor follows a young woman who travels between her world and our own. Just a Reflektor not only enabled Arcade Fire to produce a groundbreaking and unique music video for their fans around the world, but also demonstrated the group's extraordinary commitment to Ciné Institute's mission and the development of Haiti's film industry.

For more information, visit:
http://thecreatorsproject.vice.com/show/vincent-morisset-on-filmmaking-arcade-fire-and-interactive-design
http://www.youtube.com/watch?v=9IaSuHwwYyg
About Ciné Institute
Founded in 2008, Ciné Institute provides desperately needed free college education and employment opportunities to underprivileged Haitian youth. It is the only college of its kind in Haiti, where just 1% of high school graduates can afford to attend university. Recognized and supported by other leading international filmmakers George Lucas, Francis Ford Coppola, Sean Penn and Paul Haggis, the Institute is an important force in growing Haiti's local film business and creative economy.www.cineinstitute.com 

About FIAF
The French Institute Alliance Française (FIAF) is New York's premiere French cultural center. FIAF's mission is to create and offer New Yorkers innovative and unique programs in education and the arts that explore the evolving diversity and richness of French cultures. FIAF seeks to generate new ideas and promote cross cultural dialogue through partnerships and new platforms of expression. www.fiaf.org