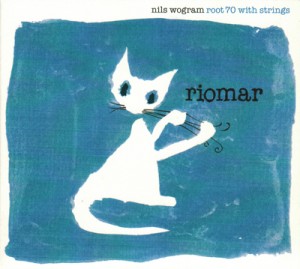 Artist: Nils Wogram Root 70 With Strings
Title: riomar
Label: nWog Records
Genre: jazz with strings
CD Review by Matt Cole
When last we heard from German-born trombonist Nils Wogram, he was leading a lively septet consisting of six horns and a drummer. This time around, on riomar, he uses an entirely different band, with his quartet Root 70, consisting of himself, Hayden Chisholm on alto sax, Matt Penman on bass, and Jochen Rueckert on drums; joined by a string section with Gerdur Gunnarsdottir on violin, Gareth Lubbe on viola, and Adrian Brendel on cello. riomar is just as creative as Complete Soul, while covering different (though overlapping) sonic space; and while just as energetic, is a bit gentler than Wogram's all-but-one horn septet, as might be expected.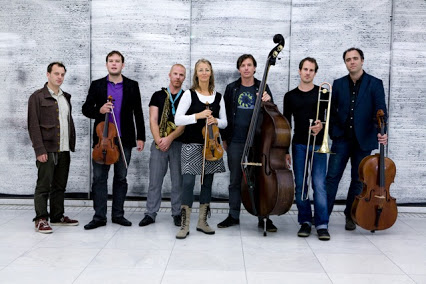 "Lisboa," the first track, starts out with the sound of a sweet, classical string trio, with a small hint of Appalachia or Americana. Then the rest of the band comes in, with the sax, soon joined by the trombone, taking a lyrical, jazzy lead over ethereal strings and drums with strong elements of a pan-Latin ballroom. This leads into the first of many spirited Wogram trombone solos, and other elements are also added over time to the mix; march-influenced drums and string parts which sound like they could be from a film on the more art end of the spectrum; overall, the piece often has many details, but overall is calmer than one might expect; perhaps like the overall soothing effect of a pond with many small ripples traversing its surface. "Lisboa" is right off the bat a good example of the band's use of its sonic palette to the fullest possible extent, and of the band's ability to take you on a coherent journey using many elements.
There's a lot to like about this album. Root 70 draws on a wide variety of influences, and mixes them without strain. The album's second track, "Vacation without internet," starts off with dissonant, darting strings right out of Varese or Webern, and very smoothly shifts into a swinging groove with bebop lines, a big band vibe, and excellent use of horns and strings in alternating lead and long tone roles. "Don't Believe" alternates between Baroque-sounding strings and angular, jazzy horn-led sections, including some fine soloing by Wogram and Chisholm. "Song for Bernhard—in memoriam to Bernhard Steinmetz" starts off with a gorgeous cello solo by Brendel, from which soon emerges an odd meter groove. The latter two are also standout examples of Wogram and ensemble's unusual and effective use of dynamic space; at times in both these pieces horn leads are being played under and behind a more dominant rhythm, giving the effect of a steady rhythm with interesting undercurrents and ripples adding texture and variety.
Wogram uses the various parts of the ensemble artfully and skillfully to create a variety of exquisite and precise moods. Title track "Riomar" starts with ascending arpeggios in the strings that have hints of classical, Celtic, Baluchi, and Indian roots, with blues notes appearing and leading to a dreamy, bendy string vamp with a gentle blues feel. This is succeeded by a section which can best be described as if Ellington and Mingus got together to write in the way that they have of precisely and timelessly capturing the feel and spirit of their times, a great soundtrack to a classic noir movie. "Mental isolation—dedicated to Duke Ellington" starts out as if Webern had written some string quartets for a late '60s/early '70s Kubrick movie, perhaps a science fiction one (pre-Star Wars and Alien), and then moves to a jazz march, almost a dirge, from which a tango emerges in the strings. "Uniformly uninformed" sees the rhythm section show its skill at mood creation, with various orthogonal interlocking lines, almost like a slightly drunk Philip Glass; later, a rapid-fire Penman solo over long string lines and intricate percussion rhythms creates a delicious tension, after which the music morphs into a very odd meter string vamp in 11 (as far as I could tell) and then a jazzy rhythm led by Wogram's muted trombone.
With only one other horn to share musical space with, Wogram is more out front in this album, taking energetic solos on many tracks; the ones on "Mental isolation," "Playing the game," "Seeing the new in the old," and "Uniformly uninformed" stood out for me, but a different listen might provide a new set of favorites. Chisholm has some fine moments of his own, including a lovely jazzy-with-a-hint-of-blues solo over a band in great sync on "Riomar," and sounds like a breathier Paul Desmond on "Don't believe," which led into a section of baroque string lines over a swing rhythm which really melded well together.
While sounding somewhat different than Complete Soul, due to both a different array of instruments and a somewhat different set of influences and sources, riomar is another very creative and enjoyable effort from Nils Wogram, who is emerging as a prominent figure in a wildly creative musical milieu. riomar, like a number of recent albums, has many influences put together well by able musicians; on this one, the mix is often subtle, interesting, and energetic. Years from now, we may look back at these times as the dawn of a golden age of creativity, variety, and eclectic fusion, and it would not be surprising if Nils Wogram was then regarded as a very important part of this age.
Related Posts
CD Reviews: NoReduce and the Nils Wogram Septet from Switzerland
CD Review: Sebastian Schunke – "Genesis…" is an album which will take the listener to many interesting and enjoyable places