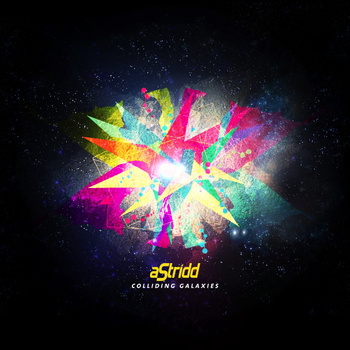 Artist: aStridd
Title: Colliding Galaxies
Label: self released
Genre: nu jazz/nu soul
Review by Dawoud Kringle
Once in a while a really interesting CD will just fall into your lap. This is how Colliding Galaxies, the new EP by aStridd came to me. aStridd, the Brooklyn based duo of guitarist / composer Yasser Tejeda and vocalist Jill Peacock have produced a really engaging debut release.
A complex acoustic guitar riff and a wave of dreamy synth pads and syncopated drum beats opens the first track "Night Sky." The song embraces the listener in its multidimensional production and lush composition. As the song progresses, crashing chords and subtle sounds bring the music to a crescendo, then fades out like falling into a dream.
They continue with a unique cover of "My Favorite Things." Tejada's guitar work keeps within the rock realm, and contributes in this way. But it's Peacock's tight and startling harmonies and ghostly phrasing that bring out an interesting interpretation of the classic.
"Misadventures in Makebelieve" starts with a fairytale dream scape and very interesting string arrangements. A flute appears in and out of the song, and there are hints of other wind/brass instruments that one might catch, if they're paying attention.
The final track, "Beautiful Catasrophe" begins with the famed "Amen Break" beat, and weaves in and out of complex and powerful arrangements without once losing the music's dreamy, spacey, uncentered romp through the cosmos.
The music has a quality all its own. The descriptions others have used for aStridd's music (i.e. "psychedelic," "jazz/rock," etc.) don't really do it justice. This is music that will reach into you and take you to another world.