Date: June 15, 2015
Venue: Le Poisson Rouge (NY)
Review and photos by Joe Yanosik
In January of 2004, I found myself in Morocco with my good friend and fellow music fanatic Jason. I recall we were sitting in a cafe' having lunch in Marrakesh when the conversation turned to local music and then, of course, to the country's most famous musical entity – the legendary Master Musicians of Jajouka. Led by the Attar family, these musicians have been preserving their indigenous unique music for over a century, passing it on from father to son for generations. Jason had been publishing an online music magazine for years and had many connections within the music world, so I wasn't surprised when he made a couple of quick local calls and then presented me with an incredible choice: did I want to change our itinerary and drive up into the Rif mountains to meet the master musicians in person, or continue on to the next leg of our trip as planned. The details are murky (it was 10 years ago after all) but for some reason I voted for us to not change our plans and so our most-likely-once-in-a-lifetime chance to see the master musicians on their home turf evaporated like smoke and was soon forgotten. But when I saw the listing for the Master Musicians of Jajouka appearing in NYC last weekend, the memories came flooding back and I seized the opportunity to finally see the band after all these years.
The show started with the leader of the group, Bachir Attar, dueting with guitarist Elliot Sharp on some free-form improvisations. Sharp would get a riff going, turn on his PC for a drum beat and Attar would let loose on his ghaita, a piercing double reed wind instrument that is the signature sound of the Master Musicians and gives them their unique hypnotic sound. After a short set, Sharp left the stage and Attar then introduced his brother Moustapha to the stage. Instead of the full Master Musicians group, only the two Attar brothers were present. The rest of the band was comprised of Billy Martin (of Martin, Medeski and Wood) on drums, DJ Logic on turntables and electronics, Shahzad Ismaily on bass and the great Marc Ribot on electric guitar.
They started out slow with some seriously spacey music but soon started to generate a groove which had the entire packed club bobbing their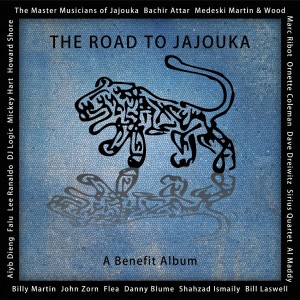 heads. The group on stage was essentially the core band heard on last year's superb The Road to Jajouka compilation (2013 Howe Records CD) which features various artists (Ornette Coleman, Lee Ranaldo, Flea, John Zorn and more) playing alongside Bachir Attar and/or one of his many musician fans. The majority of their one 90 minute long set featured some incredibly compelling dark, funky music which reminded this listener of nothing less than On the Corner-era Miles Davis but with the Davis band's sitar replaced by Attar's ghaita. This was true jazz-rock-world music fusion at its best. Ribot in particular was amazing, conjuring gorgeous pealing feedback noises out of his axe which shot through the wall of noise like laser beams.
Did I mention that Jason met me at this show so we finally got a chance to see the Master Musicians together after all these years? Of course, this wasn't really the Master Musicians in the purest sense. That magical music doesn't feature bass and drums and electric guitar. But this show did, and I think it was worth the wait.
Related posts
The award-winning documentary "The Hand of Fatima" is now available on DVD!
Le Poisson Rouge – Legacy of Robert Palmer/Benefit Concert for the Master Musicians of Jajouka
If the Moon Loves You – A Meeting with Bachir Attar of The Master Musicians Of Jajouka.