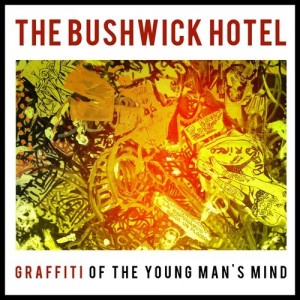 Artist: The Bushwick Hotel
Title: Graffiti of the Young Man's Mind
Label: self produced
Genre: indie rock
CD Review by Dawoud Kringle
One of the most interesting, although potentially incongruous, manifestations of American music is when jazz musicians play rock / pop music. Of course, there is nothing new about this. Frank Beecher of rock & roll pioneers Bill Haley and the Comets was a jazz musician. The musicians who played on the Motown soul and R&B hits of yesteryear came from a jazz tradition. And who can forget Steely Dan, who mixed jazz to pop, and unintentionally had young rock audiences believing they'd invented major 7th chords? When jazz musicians enter the rock/pop world, they invariably make a contribution to the music that rock musicians along rarely can.
Enter Bushwick Hotel. In 2011, Jazz saxophonist Matt La Von, , who was a member of the notable Brooklyn based, progressive jazz group, Evil Giraffes on Mars, teamed up with rock guitarist and vocalist, Greg Ferreira. The two found their respective talents both contrasted and complimented each other. They collaborated on several band projects, two records, and eventually opened Live By the Sword Studio in Bushwick, Brooklyn. Eventually, they teamed up with Rudy Temiz on rhythm and midi guitar, Ben Teters on drums, and Erik Naslund on bass. Thus began The Bushwick Hotel. La Von is still very active in the jazz scene in NYC. He co-leads the jazz jam session at Ba'sik in East Williamsburg with jazz guitarist Isaac Darche, works as a sideman on numerous recordings and live performances, and, as of this writing, is preparing to record and release his first solo recording, due out by the spring of 2015.
The CD opens with the song "Take Care of my Girl." A hand clap beat with harmonica that suggests a blues. But a sophisticated melodic hook on the sax, mirrored by the bass takes center stage. A counterpoint slide guitar insinuates its way into the song. The lyrics are sung with an aggressive desperation, and the song has the type of energy reminiscent of 60's rock bands such as Uriah Heep.
There is a decided 80's pop vibe to Bushwick's music. For example, "Talk All Night" comes across as the song Elvis Costello forgot to write. "Shot out of a Cannon" is reminiscent of post-Ziggy period David Bowie. This Bowie vibe also shows itself in "Lighthouse" and "Bittersweet;" both display a grounded, yet languid and dreamy aggregate of musical processes. The title track "Graffiti of the Young Man's Mind" brings the listener back to the high energy blues based 60's type rock) with a touch of psychedelia) that opened the CD.
My only criticisms of the CD are 1. The vocals do not always accentuate the lyrics as clearly as the music would normally demand, and 2. The music is very good, but the band breaks very little new ground, and seems content within the paradigm of retro sub-genres of rock (which may seem new to younger audiences unfamiliar with the details of rock history). Perhaps this is my personal musical taste speaking (and I advise the reader to take it as such), but Bushwick Hotel could probably have exploited its own potential and veered toward a stylistic originality that nobody has ever done before. I get the distinct impression that it is there, waiting; and playing it safe does not become these talented men.
One definite plus this CD has is the ingenious way the saxophone is woven into a genre where most people are (erroneously) convinced the saxophone does not belong. On all levels, it work, and works beautifully.
The jazz element is very understated here. It's quite impossible to interpret this recording and performance as anything but rock/pop. The songwriting and performances are solid, and deliver on its promise of fine music. This is the type of band whose music you'd play at a party, and whose live performances are expected to be loose and aggressively fun.
I look forward to more music from Bushwick Hotel.
Related Post
CD reviews: New CDs from "Evil Giraffes on Mars" and "the Hammer Klavier Trio"