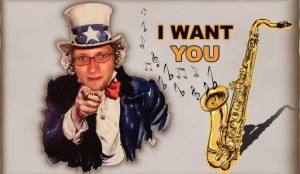 Text by Sohrab Saadat Ladjevardi
Jeremy Danneman, is not a new name for you. DooDeeDoo has featured Jeremy a couple of times during the last two years. Yes, he's  a 24/7 musician performing on and off stage…yes, he's playing all kinds of saxophones and the clarinet…yes, he's a composer and educator, based in New York City. BUT He's also a music activist and the founder and president of Parade of One, an international street performance project.
He's a good example why we need more musician like him. He's a young gentleman who cares for his people and people outside of his circle. He wants to reach out with his music and let people know that there are other people in need. He plays music for two reasons: firstly, he wants to entertain people in a positive and intellectual way and, secondly, he wants his audience to know about things they have never heard of or don't know at all.
I believe musicians or music activists should get any kind of financial support from the public, in order to pursuit their vision and accomplish their goals. They're hard working and passionate people believing in their mission. Politicians can't do that, because they get distracted easily by outside pressures and money issues.
Anyway, Jeremy, respect what you've been doing and keep going the good work. DooBeeDoo is on your side!
Text by Jeremy Danneman
Dear Friends,
Last week, Sophie was very briefly in town, and it was my birthday, so we had a super top-secret Birthday Parade, during which we gave a short performance in the subway. It was caught on video, so now you can get a quick preview of what's to come in May when we are playing in venues, markets, and schools across New York City.
If you clicked on the video, you'll notice that we launched a crowdfunding campaign today on the Indiegogo platform. Yup, it's a hint. I want you to join the Parade of One Army. We set our goal as $8,500 for now, to cover Sophie's considerable expenses, as well as the recording studio rental, and to make sure Sophie and the other musicians get paid. We will need to raise much more, but it will be a start. I thank you all so much for your continued support, through the both the good and hard times.
All My Best,
Jeremy
PS Did you get my new album yet? Lady Boom Boom is off to a great start, and physical CDs are now available in addition to digital downloads. It's gotten some reviews, and I think you'll keep hearing more about it. You can get a digital download or physical CD when you contribute to our crowdfunding campaign. Of course, you can also get it on ITunes and your other favorite online retailers and streaming sites.
Upcoming Performances: We are starting to announce upcoming events with Sophie. Check out our Events Page to make your plans to see us!
Related Posts
Jeremy Danneman…is not just a street muscian but also a music activist taking "his" music to the streets around the world.
Music Activism: Parade of One Update
Please support Parade Of One's Sophie Nzayisenga (Rwanda) campaign to invite her to NY next year!