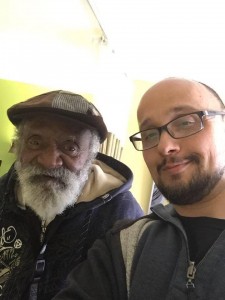 Text by Matt Lavelle
Photo and video courtesy of Matt Lavelle and YouTube

The last we heard from Brother G he was still holding court in Tompkins Square Park with a tenor and a small batch of CD's to sell. 9:30 every morning, like clockwork. Rain or shine, G was almost always at his post on the northwest corner. This last winter slowed him down though. Even the cockroaches, rats, and sky-rats were M.I.A. Despite my time crunch; I had lined up three concerts for him to play, two out of state, and one with bass player Eric Revis. Then G fell again and re-injured his hip. When he ended up back in the hospital, the state decided that G was no longer in control of his life, and they took over. G was dispatched out to Far Rockaway Queens, at the end of the A-train line. It took me a minute to track down  Giuseppi Logan since I'm not a blood relative, but soon enough I learned he was on the fourth floor, and that he was in stable condition. Lawrence Nursing Home is a God-send, straight up. A place for folks who have reached the twilight alone, with no support system. Incredible stories and a few tragedies reside there. The folks at this home are all survivors. At some point, everybody has to come in from the cold.
Still needing another ten hours in the day, I had a hard time finding a window to go check up on G. I got him on the phone a few times though. The first time we spoke his first words were "When's the next gig?" I had to break it to him that he needs to stay there and cool out. I didn't mention that this might be his last stop. He has a keyboard, so he has a connection to music that I consider vital. He doesn't have a working horn though. G needs a horn to be who he is. I asked him if he made any friends, and he said no. When I asked why he said that he was sincere with his feelings and just didn't trust anybody there. He decided to stay to himself mostly out of fear and said he was lonely. I told him I would work on the situation. Shortly after this I learned that G then found a true angel.
Diane Moore has worked at Lawrence for many years and is a singer herself. She found G at the home and became the angel that he hasn't had in decades. Brother G and Diane meet every day at 2:00 pm and listen to music. Giuseppi tried to play "My Funny Valentine" for her, and when the horn wouldn't let him, it broke her heart. She started going all out to fix the bad horn situation, even writing the horn companies. She ran into some of the blocks and blank stares that I used to receive. She reached out to Sam Ash and sooner or later we met on the phone.
Right at the same time, my friend Larry Weinstein contacted me. Larry is a great director, and he had started a documentary on Giuseppi a few years back. Larry and his film crew were in town from Canada. Could I set up another film session? In these situations, I always ask G first. He came back with a resounding yes as expected. Attention to his situation might help him out, and, of course, there was some bread involved. I asked Diane if it was cool and it was on. The plan was for me to bring Larry out to Far Rock, and at the same time get Giuseppi's horn. The Jazz Foundation is ready to have it fixed once and for all. Bad equipment has been the main obstacle to Giuseppi getting his chops back the last several years.
Once we made it out there, right away I noticed a change in Giuseppi. He was looking good and had a bright light in his eyes that I hadn't seen, maybe ever. We headed up to his room. G still had his crazy two hats, a sombrero, and a tropical straw hat, for whichever mood, struck him. The film crew was being a drag as G and I just wanted to hang out and check out this new tune he was working on in ⅝ time. I decided to play Giuseppi's music for him on my big fat phone. Satan's Dance played and instantly his whole body started to vibrate. G explained that this tune was an attempt to make Satan dance. Going with the vibe I decided to flip the script and play a song Giuseppi wrote and sang on his comeback record called Love Me Tonight.That's when the unexpected happen, as he started crying.
G listened to this haunting Requiem, which is a plea for someone to open their closed heart. Five years after he wrote it I learned that this was a song for Giuseppi's first wife. She put him in a mental home, took the house, took his son and vanished back then, leaving him abandoned.
The reality is that he never stopped loving her.
Not even for one day.
Giuseppi told me that his song had him remembering and feeling all kind of things. That's what music is supposed to do. He was getting tired though, and we had to wrap it up. He told the film guys he was happy to see his buddy, me. We devised a new plan: Why not just go for a new alto? We left G in good spirits, and I promised to be back with a horn soon. I gave him my checkered hat, and I don't give away hats. When I put the horn drama on Facebook, offers to help started pouring in from ESP-Disk record label and other friends. Our friend Rocco Iacovone came out and offered to straight give G a good alto. This plan is going into effect as a type.
On the way back to the city, I was telling Larry how Bernard Stollman from ESP-DISK record label had pulled the rug out from under Giuseppi a couple years ago. Bernard set up a record date and then canceled the day before. We had rehearsed for weeks and were even flying in Jaee Logan, Giuseppi's son to play the piano. Bernard had a sudden epiphany that he would never work with Giuseppi Logan ever again. I told Larry that was a good example why Ornette (Coleman) called him an assassin. On the way back to the city on Facebook, I learned that Bernard had just died. I was shocked and felt a little guilty, but hey, decisions about who gets to stay and when you have to leave, are beyond my pay grade.
It's the moments that happen in the here and now that are important. What do you do that's important as a human being? Deep into listening to the cornet kings of the Jazz Age for school, I just recently found myself immersed in listening to King Oliver with Louis Armstrong. As much as I adore the venerated Hot Fives, I just felt this music closer to my heart. It wasn't even about the music as much as it was about Joe and Louis playing together. You can hear it in the music plain and simple. Joe Oliver and Louis Armstrong loved one another.
That's why were here.
That's what life is.
Love.
For King Oliver