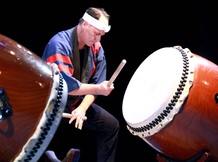 Text by Marco Lienhard/Taikoza
About this project
We are excited at the project of recording a new CD of Taikoza's new pieces. We have been performing our new repertoire but we do not have the songs recorded yet. We hope that, with your help, we will be able to finally make this new CD. We have the opportunity to use a 6-foot long Taiko drum but could not find a space to record it. We finally found the Studio in New York that has doors big enough to fit it in.
We had done a recording for a soundtrack for a Wii game before and thought it would be great to be able to use the studio again to record a new CD. Marco Lienhard is the composer for most of the pieces that we will include in the new CD. The recording will include the shakuhachi and the shinobue. Taikoza's first CD was nominated as best Asian Ethnic Album for the Just Plain Folks Music Award. We hope that with your help, we will be able to create a CD that will be even more exciting and that will feature this gigantic taiko drum that will sound amazing.
We have set a minimum goal that we hope to surpass to help us with all the production and recording costs- this set amount will just help us kickstart the recording process but keep on bidding beyond the set limit!!!!
Read more here: https://www.kickstarter.com/projects/641430015/new-taikoza-cd-voice-of-the-earth-daichi-no-koe
Recommended Posts
Concert review: Taikoza banged the big barrel-sized taiko here among the steel and concrete skyscrapers of New York…
Musician in NY: Marco Lienhard & his TAIKOZA – the man keeping Japanese culture alive?!
NYC concerts
5/20 Taikoza,  6PM – High bridge park by 170th street
5/23 Taikoza, 12 noon at West Harlem  Piers Park.
5/23  East Winds Ensemble (koto and shakuhachi) at Bruces Garden on Park Terrace East, NY 10034,  at 5pm
5/31Taikoza,  Ellis Island, noon-1pm
6/6 Taikoza, 6pm,  Isham Park in Inwood ( N. Manhattan) 6/7 isa the rain date