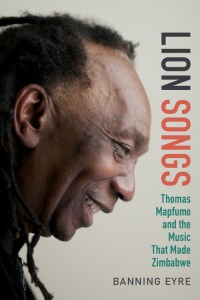 Author: Banning Eyre
Title: Lion Songs: Thomas Mapfumo and The Music That Made Zimbabwe
Format: book (hard cover 416 pages) & CD
Publisher: Duke University Press Books (May 22, 2015)
Buy book here:#lion-songs-book-section" target="_blank"> http://www.banningeyre.com/lion-songs/#lion-songs-book-section
Author and guitarist Banning Eyre has spent over 20 years exploring music and history in Zimbabwe. The country's greatest singer/bandleader, Thomas Mapfumo, began his epic career in the early 1970s. Now in exile, Mapfumo is both a brilliant musical innovator, a reviver and re-inventor of ancient traditions, and a persistent gadfly in the affairs of corrupt politicians, whether in white ruled Rhodesia or black ruled Zimbabwe. Mapfumo's dramatic story, never before told in such detail, stands beside those of Bob Dylan, Bob Marley and Fela Kuti.
Banning will be doing events in many locations around the country this summer. (See banningeyre.com/events for more).