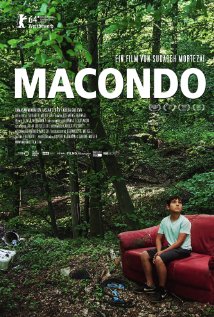 Date: Friday, July 24, 2015
Time: 7:30pm
Venue: Anthology Film Archives (32 Second Ave, New York, NY 10003)
Ticket: $10
Film by Sudabeh Mortezai
In Chechen and German with English subtitles, 2014, 98 min, digital
Since 2011, each annual edition of the Viennale (Vienna International Film Festival) has featured the granting of the MoreVALUE Film Award to one or more Austrian filmmakers whose films are included within the festival. The Award brings a cash prize as well as a one-month residency as a visiting film scholar hosted and organized by the Deutsches Haus at NYU. The screenings are co-organized by the Deutsches Haus at NYU and the Austrian Cultural Forum New York. The filmmaker will be there in person to present her work!
About the director and her film
The first fiction feature from documentary filmmaker Sudabeh Mortezai, MACONDO focuses on 11-year-old Chechen refugee Ramasan, who lives in the titular suburban neighborhood of Vienna with his widowed mother and two younger sisters. Though only a child, Ramasan finds himself pushed precipitously towards adulthood: even as he struggles with the loss of his father (who was killed in the Chechen wars) and his cultural identity in a strange new land, he is, within traditional Chechen society, now considered the man of the house. The arrival in Macondo of Isa, an old war buddy of his father's, throws Ramasan's uneasy position between childhood and maturity into relief: he must reconcile his desire for a father-figure with his loyalty towards the patriarch whom he hardly knew.
Graced with an exquisite performance – heartbreaking yet tough – from Ramasan Minkailov, as well as equally assured work from Kheda Gazieva as his mother Aminat and Aslan Elbiev as Isa, MACONDO is a finely observed and deeply humanistic film that movingly depicts one young man's emotional struggles as well as providing a glimpse into the experience of immigrants in 21st century Europe.
"As an Iranian who split her childhood between Tehran and Vienna, Mortezai can clearly identify with the confused emotional state of her young protagonist, treating his unique situation as one example of Austria's complex immigrant experience – a deeply humanist perspective." – Peter Debruge, VARIETY