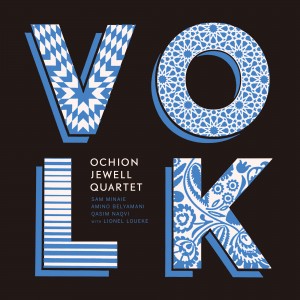 Artist: Ochion Jewell Quartet
Title: Volk
Label: self-produced
Genre: minimal jazz/contemporary music
CD Review by Dawoud Kringle
I was unfamiliar with Ochion Jewell when I was first asked to review Volk. I did a little digging on his website and elsewhere. I found a quote he put on his bio page that spoke volumes: ""Growing up in Appalachian Kentucky without any music venues led to a strong connection to the inherent music of nature. No matter where I go, I can still feel the honesty of that place as the foundation of my art and who I am." Jewell's training and experience, first in classical music, then in jazz and improvised music, not to mention his work as a sideman with the likes of Smokey Robinson, Chaka Khan, Gregory Hines, Kid Rock, Meatloaf, George Strait, Crystal Gayle, and Michael McDonald, were instrumental in forming a unique musical personality.
The Quartet is Ochion Jewell (tenor saxophone), Amino Belyamani (piano), Sam Minaie (bass), and Qasim Naqvi (drums). Lionel Loueke contributes guitar on "Gnawa Blues," and "The Master."
The CD opens with "At the End of the World, Where the Lions Weep." Saxophone and piano play an Andalusian inspired melody in unison. The sparse, ever changing musical expression gives the impression of a pictographic language. The music is sad, and like the title suggests, laments a great loss. It seamlessly becomes the next track, "Pathos / Logos." Here, the sadness transforms into an aggressive introspection. It's almost like a small group of people engaged in philosophical discourse that stands on the verge of becoming a knife fight; with a truce declared at the end before any blood can be shed.
The next track, "Kun Mum Kultani Tulisi" is derived from a Finnish folk song. The liner notes describe this song as dark and tragic; and these adjectives are quite accurate. This mood is broken with "Give Us A Drink of Water." This is a lively and startling blend of Stravinsky, Hindemith, and jazz superimposed upon a Irish dance music. The seamless shifting between sections is quite impressive; and makes the musical structure coherent, rather than a hybrid with several dissimilar elements bolted on to each other. There are times the music becomes positively delicious in its textures.
The entire CD experiments with doing new things with traditional music. More examples of this are found in tracks like "Pass Fallow, Gallowglass," which deconstructs and reconstructs Scottish music; and "Gnawa Blues" which blends the two genres the title suggests in a way that taps into the distant roots of both music.
The Ochion Jewell Quartet's CD Volk is a brilliantly execution of untapped possibilities hidden within traditional music.