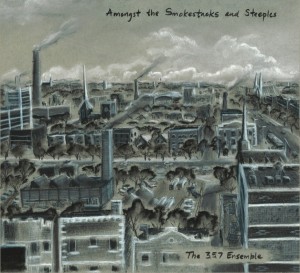 Artist: 3.5.7 Ensemble
Title: Amongst the Smokestacks and Steeples
Label: Milk Factory Productions
Genre: jazz
Review by Dawoud Kringle
Chicago's 3.5.7 Ensemble (Nick Anaya – woodwinds, James Davis – trumpet, Richard Zili – clarinet, Jim Baker – piano, Tim Stine – guitar, Chris Dammann – Contrabass, Dylan Andrews – percussion, and Mabel Kwan – prepared piano) has compiled an aggregate of compositions spanning a three year history. Most of these are originals the ensemble composed, but "Wandering" by the Chicago tenor sax player Fred Anderson, and "Dangurangu," a Zimbabwean folk song featuring Mabel Kwan's prepared piano are included.
This music is jazz. There is really no other way to describe it. As is to be expected with jazz, the musicians have chops, the arrangements are tight, the emphasis is on acoustic music (with the exception of guitarist Tim Stine, there are no electric or electronic instruments anywhere here), and there is plenty of improvisation. Some of the improvisations make cautious ventures into the free jazz realm, but always merge seamlessly back into the compositional structure. The musicianship throughout is first rate, and the compositions and arrangements hang well within the whole of the collection, and give the individual musicians plenty of tools and support to make their own statements. Stylistically, it synthesizes all manner of past jazz genres – post bop, Mingus inspired big band arrangements, west coast polyphonic harmony, free jazz cacophony, and some dipping of the musical toes into the ocean of mid to late 20th century classical. 3.5.7 makes liberal use of all of it without being confined to, or defined by, any of it.
The thing that sets it apart from other releases in the vague genre we agree to call jazz is that it seems set upon the task of producing a subliminal onomatopoeic effect of life as an "everyman." Mind you; there is no sacrifice of artistry, no concession to popular demographics. The overall effect, however, is homage to the urban American experience all people have that live in large cities. It's almost like an unspoken soundtrack of a movie, except that there is no movie: the characters in the story are real, and the music possesses an organic immediacy that purveys the visceral experience of real life.