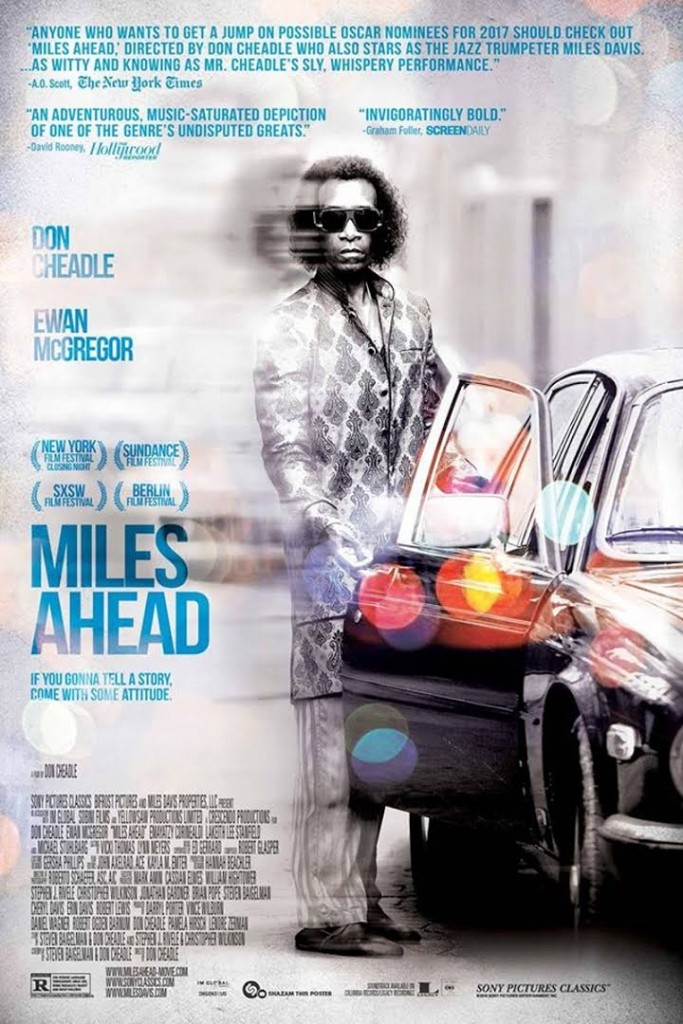 Review By Dawoud Kringle
Don Cheadle took upon himself a Herculean task of directing and starring in a biopic based on one of the most iconic figures in American music: Miles Davis. He co-wrote the script with Steven Baigelman, Stephen J. Rivele, and Christopher Wilkinson. The film also stars Emayatzy Corinealdi (as Francis Taylor), Evan McGregor (as Dave Brill), Michael Stuhlbarg (as Harper Hamilton), and Keith Stanfield (as Junior). Music composed by: Robert Glasper. The film takes its title from Davis' 1957 album of the same name.
The idea for Cheadle to star in Miles Ahead began when Cheadle auditioned for Ali. Cheadle didn't seriously consider it until 2006 when Miles Davis was being inducted into the Rock & Roll Hall of Fame. Cheadle met with the Davis family who pitched him a variety of concepts, finally settling on portraying Davis as a "gangster". It was mutually agreed that Cheadle was the best choice to write and direct the film.
Cheadle faced more than his share of obstacles in getting this film made. One of the most glaring was the inherent racism of the film industry. "In order to get the film financed, they needed a white co-star. Had McGregor (or another white actor) not been cast as the white co-star, the film could never have been made. The financiers could (or would) not finance the film if it's stars were all African American. The situation got so bad that Cheadle had to start an Indigogo crowd funding campaign to help get the project financed.
Cheadle's previous body of work is impressive on its own; Miles Ahead is his master stroke.
As the film opens, Cheadle comes out swinging. It begins with an intimate in-your-face interview with Davis. The dialogue was strangely in sync with a video of an early 70s concert being shown on a screen behind Davis. When Davis chided the off camera interviewer by saying "If you're gonna tell a story, come with some attitude," the tone of the whole movie was set.
The film made a number of flashbacks between the main period of the story, the end of Davis' infamous "dark period" (five years where he made no music, lost his chops, and immersed himself in drugs, alcohol, and self destructive behavior), and several years previous, when he met, fell in love, and married dancer Francis Taylor. The film concentrated on two main themes; a feud he was having with Columbia, who insisted he owed them an album (and who stole his master tape), and his abusive behavior toward his wife, which he clearly regretted in later years.
The Brill character entered Davis' life through an act of deceit. Claiming to be a writer for Rolling Stone, he attached himself to Davis to do his "comeback story," and ended up with more adventure than he'd bargained for. The film has plenty of chase scenes, fist fights, gun fights, drug and alcohol fueled debauchery, sex, police brutality, involvement with people of disreputable character, and other acts of insanity that plagued Davis's life during this time…
PART 2  here: https://doobeedoobeedoo.info/?p=26716