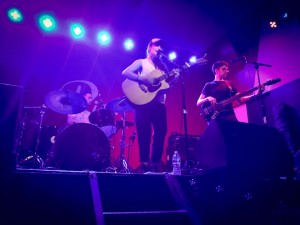 Date: September 21, 2016
Venue: Piano's (NY)
Review by Dawoud Kringle
South African born singer-songwriter Jeri Silverman offered a set at NYC's Pianos. I was mildly intrigued; frankly, there are a lot of singer-songwriters. To stand out in this, one must have something of artistic depth, or risk being lost in the crowd. With this in mind, I went to Pianos to hear what she had to offer.
Silverman and her band took the stage. Without preamble or introduction, a four count on the drums launched a sparky pop rock song. She drove her point home and established a musical mood that would explore her multifaceted songwriting ideas.
The second song had a twinge of reggae without sounding like a white girl trying to play reggae. The song shifted to a lilting 6/8 and flirted occasionally with the reggae implication. This led the way to a song with an almost Joni Mitchell style intro, and morphed into harder edged modern pop.
A modest fingerpicking guitar figure began their next piece. This was a very millennial pop song, although there were some moments of harmonic inventiveness (courtesy of bassist Ian Underwood) that I wasn't expecting.
She continued with a cover of Fleetwood Mac's "Dreams" (which she had learned for a wedding gig). She played solo. Her guitar work was quite interesting, and brought a new interpretation to the old song.
The next song was written when she was "angry and depressed." An interplay of harmonics between the guitar and bass created a contemplative mood. The song was quite powerful: eloquent and expressive.
The next song, "The Fever," was another emotionally charged rock piece. It was followed by a song that somehow harkened to the punk days of yore. The "bad girl" attitude was, however filtered through the culture and zeitgeist Silverman sprung from, and took it to some unexpected directions.
They concluded with a song called "Good Life".  Underwood provided an interesting melodic improvisation over Silverman's guitar, then broke into the rock vein the band had rode for much of the set.
Her vocals were clear and emotive, displaying a dexterity and authority many young singer-songwriters try for, and fall short. Her guitar work stood out as inventive and very well suited to the deeper needs of the music. The bass player, Ian Underwood, and drummer, Adam Benham, were very good. Benham locked into everything and moved Silverman and Underwood into the music with grace and aplomb. Underwood is an imaginative and lyrical bassist with an excellent instinct for harmonic inventiveness. They functioned very well together.
Silverman's stage presence was very underplayed. Dressed in the nondescript attire one finds in rural and suburban America, one got the feeling she is naturally shy, and just now becoming confident as a front woman. The music doesn't betray this, but it's clear Silverman's main focus is the music, and not being a performer.
In the times we live in, there is a disturbing surplus of singer-songwriters. Most of them mediocre at best. It's long been past the point where one in that genre must either come to the table with quality music, or find another vocation. Silverman comes with quality music, and has earned her place at the table.
Related Post