Interview by DooBeeDooBeeDoo NY
I had the opportunity to interview Iranian musician Kaveh Haghtalab. He has been contributing music, sounds and rhythms with his kamancheh and drum skills to the New York's music scene since 2012. His views on the music scene and business in his native Tehran and in New York City bring a fresh and informative view of our business and art.
DooBeeDooBeeDoo NY (DBD): Kaveh, it's good of you to join us. Please let's start with your background. You're Iranian, originally from Tehran. What did you do before coming here? What made you come to New York City in 2012, and what have you been doing since your arrival?
Kaveh Haghtalab (KH): Thanks for having me here at DooBeeDooBeeDoo.
Before traveling to the U.S. I was working as a professional musician in Tehran. I did a variety of work as a Kamancheh player, drummer and occasionally both, including performing at concerts and festivals as a solo performer and also an ensemble member, composing, recording and performing for theater and film, radio shows, etc. There was a point in my career as a musician that I felt the need to be exposed to more than my own culture, and experience those other cultures first hand. Also I wanted to have the opportunity to collaborate and exchange with musicians that have a different background than my own. New York seemed to be a perfect place for that.
I attended the Drummers Collective. As a drummer, that helped me familiarize myself more with authentic ways of approaching jazz, Latin, and American Pop, Blues and Rock music. Since I finished my studies at the Collective, I've been busy performing, touring and recording in different places in the U.S. while being based in New York. Some of the works I've done here in the U.S. include concerts, recording sessions, radio shows, film scores, works with Broadway composers and singers, composing and arranging music, choreography and dance production live music. I've been also doing a research and working on ways to use Persian music as a base for composing in the western music structure. I'm currently working on some composition and arrangements with that purpose.
DBD: Kamancheh and drums are completely different instruments with different histories. As a kamancheh player, how did you get interested in studying the drums?
KH: Since early ages, I was always intrigued by rhythms and sounds of percussive instruments. I was also interested in learning more about jazz and world music, since these genres of music are very accepting for other cultures and had been influenced by them. On the other hand, drum-set, while being an American instrument, is a collection of various percussions and cymbals from all around world. So it seemed like a perfect instrument that would allow me to channel my passion for rhythm.
I have to add that although kamancheh and drum set are two different instruments from different cultures, they've concurrently helped me develop my own voice. I found out that playing two instruments with different mechanics and techniques, helps musicians to understand music from multiple perspectives. That would ultimately give the musician a unique and more complete vision. For instance, kamancheh, because of being a bowed instrument, gives the performing musician complete control over length of the notes. On the other hand, a drummer doesn't have so much control over the lengths of notes (with the exception of hi-hats and when drummers using their hand to choke/mute cymbals or drums). So as a drummer, my experience with a bowed instrument, gave me the ability to feel the space between the notes in a more continues and flowing fashion, and value the rests as much as notes, as opposed to feel the notes as percussive hits separated by rests, which is a common practice with many drummers.
DBD: You recently performed with your regular band SoSaLa? How was it, and what is your main function in this band?
KH: It was very adventurous and fresh. I felt four of us were ready to explore the moments and go for new sounds and ways to express ourselves. We were listening and getting inspired by each other.
After the show, I talked to some people in the audienc who decribed SoSaLa's music a fusion of jazz, punk, funk and Persian music.
I am the only person who plays a none-western instrument in that band. So part of my role is to bring that eastern spice and flavor to the music.
I also take active role in accompanying saxophone and dobro solos, sometimes playing as a bridge between the soloist and percussion. I do so by playing rhythmic motifs, occasionally inspired by Iranian music, and moving them along with harmony and improvising the rhythm based on what I'm hearing from other musicians in the moment. I also take solos.
DBD: Can you tell us a little about the music scene in Iran in general? What kinds of music styles are popular? How about jazz? What doesIran's youth listen to? Do you have music radio stations airing Western music, such as pop, jazz, or classical music?
KH: Pop, Persian Classical and Western Classical music are dominant in Iranian music scene. There are high caliber musicians working in each of those genres, and in general music business is lucrative when it comes to those styles of music. Rock music is also popular, but government controls the art scene and they suppress any music that is voicing social, economical and especially political complaints. Because of that, rock music scene is limited. There has been an increasing interest in jazz. Many musicians are eagerly learning and working on jazz. The problem is there's not so much exchange with the rest of the world when it comes to Iranian jazz scene. I've worked with jazz musicians here in the U.S. who are interested in having concerts in Iran, but they are not sure if it's possible because of the current political situation in Iran.
Radio is a very popular media in Iran. They mostly air Persian Pop and Classical and also Western Classical music. It's very rare to hear a western pop or rock music on radio station inside Iran.
DBD: How is New York City's music scene compared to the music scene in Tehran?
KH: New York music scene is much more diverse. There are opportunities to play any genre of music in the world, and play with people who know that genre authentically. Because of this diversity, musicians are very open to exchange with other cultures, hence new sounds and styles of music are constantly created in New York.
SSL: How do you feel of being a professional musician in general? Are you a member of any musician organization? If yes, why did you join it and what do you want to achieve as a member?
KH: I feel very thankful for being able to do what I'm doing. I believe that we musicians touch our audience in the deepest way possible. Although many don't realize how much investment in time and energy it takes to become a working musician. Because of that, society tends to take musicians services, and the value and effects of music in everyday's life, for granted. As a musician who's living in this society, I feel it's my responsibility to bring public awareness about the challenges that many musicians are going through, and fight for musician's right. Because of that, I joined MFM (Musicians for Musicians), which is an organization ran by professional musicians with the same goal.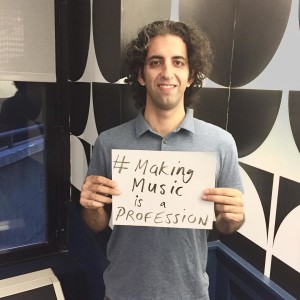 As an MFM member, I'm working to include more of Iranian community here in the U.S. in this movement. This is very helpful for the organization and also for the Iranian art community, because they'll have a unified platform to make public aware that #MakingMusicIsAProfession.
DBD: Thank you very much for this interesting and informative interview.
Related Posts
Concert Review: Siavash and Kaveh Haghtalab…imagine a garden you've never been in before. This music will take your hand, and show you into this garden.
Concert Review: Kaveh Haghtalab and (guest) Sohrab Saadat Ladjevardy play the Persian blues… It was all poetry…!