"Music is a noble profession."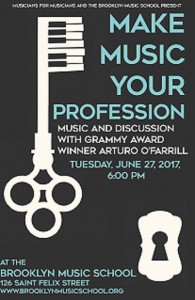 Date: June 28, 2017
Venue: Brooklyn Music School  (Brooklyn, New York)
Review by Dawoud Kringle
On Tuesday, June 28th, 2017, the Brooklyn Music School (BMS) hosted the latest in Musicians for Musicians' (MFM) talk series Making Music Your Profession. The guest speaker was Arturo O'Farrill.
The event was held in the school's auditorium. The participants sat on the stage; the audience seating was eschewed. This was a poetic touch, as it carried the insinuation that the stage is where we belong.
The Executive Director of the school and MFM member, Piruz Partow opened the event with a description of the school' history, curriculum, and extracurricular activities. He was followed by MFM founder Sohrab Saadat Ladjevardi, who spoke of the difficulties that face musicians throughout the world; much of which he'd experienced firsthand. He spoke of how he got the idea for MFM.
After Saadat's monologue, MFM member Lindsey Wilson took the mic and explained how MFM membership benefits musicians.
Then the event truly began. O'Farrill sat down at the piano and improvised on a theme; a beautiful jazz piece that seemed (to my ears) to mix a Monk / Ellington flavored blues with subtle insinuations of early 20th century Impressionism. It morphed into Latin jazz, and danced coquettishly with its earlier peregrinations.
O'Farrill and moderator Jeff Newell (BMS's Chief of Jazz Depatment) sat down to begin the talk. Before they began, O'Farill shared the sad news that jazz pianist Geri Allan passed away.
Newell and O'Farrill began the talk. They spoke of his early beginnings as musicians. O'Farrill shared anecdotes of his tenure with Dizzy Gillespie, Harry Belafonte, Carla Bley, Andy & Jerry Gonzales, Wynton Marsalis, etc. After some time leading his father's orchestra, he founded the Afro Latin Jazz Orchestra (which is in its 23rd year of residency at Birdland).
He said that in an early life lesson he learned was to go for it: don't wait for anything, create your own opportunities. One such risky project was when he borrowed $47,000 from his bartender to produce a season at Symphony Space. Thus led to several other successful projects. This was a risk: but he took it, and his risk bore sweet fruits.
One instructive statement he made was that when we perform, we educate the audience. Someone will always be checking you out, and learning from you.
He shared an interesting anecdote. When he began composing, he was fearful of comparisons to his father, composer Chico O'Farrill. A while later, someone left an anonymous message on his answering machine telling him he was "not 1/40th the composer your father was." This single message, a cruel, hateful, venomous sting upon his emotional vulnerability delivered with the cowardice of anonymity was a blessing. Far from reacting with anger or depression, O'Farrill faced, and transcended his deepest fear. The experience strengthened him, and ennobled his spirit.
When Newell asked O'Farrill what, with all the hats he wears, label he's most comfortable with. He said he's a storyteller. "The arts are not competitive; the arts are about truth telling." O'Farrill's philosophy is about facing our fears, getting up every morning and do what we do. We take ourselves seriously and don't wait for permission; we make our lives what we envision it to be.
One surprise of the event was the presence of children among the participants. All of them were students of the school. This was a good sign; the upcoming generations need to be exposed to the messages the elders have to share.
And this brings up one other important element of O'Farrill's mission: educating, inspiring, and assisting young people. He helps people understand that music is an honorable profession. When we do what we love for a living, we make the world a better place.
During the Q&A session, the question of O'Farrill's
assertion that doing music can work as a catalyst for character development was explored. O'Farrill then presented the participants with a question. You have two musicians performing on stage: one is emoting heavily and eliciting an intense response from the audience, but in his mind, he's thinking about mundane matters unrelated to his music. The other is struggling with the instrument, and clearly has inferior technique, but in his heart is sincerely trying to make beautiful music. Which is the superior artist? All manner of possible answers were bantered about; and in reality, there is no answer. Each answer not only carried its own validity, but actually brought up more questions.
After the Q&A, O'Farrill and Newell did an adventurous and playful exploration of All The Things You Are. They easily explored all the poetic elements of the song.
The event was a success on many levels. O'Farrill's very life and career demonstrates that musical professionalism is not only compatible with artistic and spiritual integrity, they are an integral part of each other.