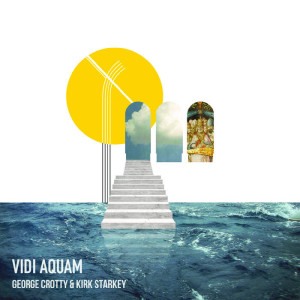 Artist: George Crotty and Kirk Starkey
Title: Vidi Aquam
Label: self produced
Genre: electronica/nu music
CD Review by Dawoud Kringle
Vidi Aquam is the name of an antiphon (a short Psalm-texted chant), which is sung during the Roman Catholic Mass. It is also the tiltel of the recent release of the collaborative project between George Crotty and Kirk Starkey.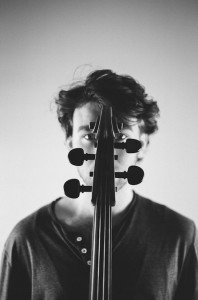 Toronto native George Crotty is descended from both Irish fiddlers in Co. Clare, and Jewish musicians descended from Felix Mendelssohn. George is currently a member of the Canadian Arabic Orchestra, and New York's orchestral post-rock band, You Bred Raptors, in addition to producing his own projects, including The Loose Roots Duo (2017), and experimental fusion quintet, 2Birds Band's First Flight and String Groover. A recent graduate of the Berklee College of Music, and member of Musicians for Musicians (MFM), Crotty is mentored by oud/violin virtuoso Simon Shaheen, and American fiddle guru Darol Anger.
Cellist, composer and sound artist Kirk Starkey studied cello in the US and Germany. He released two solo recordings, Little Gidding, and Songs of Sudbury. He worked with Glorious Sons, Ash and Bloom, Wild Rivers, Emma-Lee, Rehan Dalal, and Lou Rhodes (Lamb), Quartetto Gelato, Stephen Page, Justin Hines, Elsiane, and Peter Gabriel. Kirk was a featured solo performer/composer at the International Cello Festival of Canada and in a live solo performance broadcast on CBC's The Signal. He also produced acoustic music with clients such as the Hamilton Philharmonic Orchestra, Duo Gelato, Twin Within, Valerie Tryon, Suzanne Shulman, Bud Roach, Capella Intima, Paul Marleyn, and Shoshana Telner, and collaborated with Tonmeister / composers Daniel Dettwiler and Ramon de Marco (Basel, Switzerland) in a permanent installation in the BMW Museum in Munich, Germany.
Kirk worked on X Company (CBC), Flashpoint (CTV), Hannibal (NBC) and Orphan Black (BBC America) , and was featured in several international advertising campaigns, including Mercedes-Benz, Kaldewei, Royal Bank of Canada, and TD Canada Trust.
With resumes like these, I was interested in what the two cellists would create.
There are three tracks on this release. The collection begins with "Walk With Me." The two cellos use what sounds like loops of the percussive qualities of their instruments to form a rhythm pattern in support of a subtle melody that evolves into an interesting harmonic exploration. The impression is of some of the musical experiments arising from the new wave of neoclassical composers (such as Zoe Keating). The music is quite engaging.
The title track approaches this from a different angle. The melody plays against the looped percussion and subdivides itself in interesting ways. The harmonies are worked out in a non-intrusive way, and stay within a framework that eases the listener into its own mood, occasionally bringing an unexpected twist to the forefront.
"Amrit's Song" (named for Amrit Kaur Phull; a Toronto based dancer, graphic artist, and architect who designed the album's artwork) is played in a lively 6/8. The harmonic structure under the melody carries a deceptive complexity and adventurousness. It is both aggressive and inviting; and suggestive of a dance piece.
Crotty and Starkey are both clearly accomplished cellists. Their use of both electronics and the natural acoustic properties of the cello show a firm foundation that serves the need to experiment and expand the vocabulary of the instrument, and the music it's capable of producing. Despite their individual differences as musicians, they blend well together and create a unified whole with their work. This music will find itself quite at home among the aforementioned new wave of neoclassical composers and instrumentalists; and has the substance and vision to stand out among them.
The duo have clearly taken the classical forms of Vidi Aquam and manipulated it's primal essence into something quite unique, forging a new direction in an old tradition.