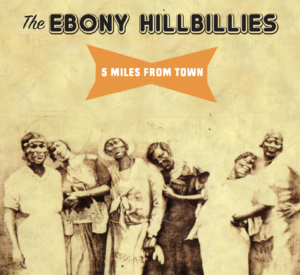 Artist: The Ebony Hillbillies 
Title: 5 Miles From Town
Label: EH Music
Genre: String Band
Music available on: itunes, Amazon and major streaming
Review by Fiona Mactaggart
This fifth and latest release from spirited septet The Ebony Hillbillies (TEH), is a corker. Renowned and beloved for their particular take on "Hillbillie" music, leader, violinist and vocalist Henrique Prince and his colleagues once again successfully juxtapose cheerful, even celebratory jazz-informed American country and bluegrass music, mostly traditional pieces rearranged by TEH, with up to the moment, in-your-face social commentary.
The music throughout the album lightens the heart with its toe-tapping and danceable cheer, this reaching a pitch on instrumentals such as the title track, with its infectious pattering, stomping and slapping. Traditional instruments such as bones and washboard are prominent. Likewise, instrumentals "I'd Rather be A Nigga Than A Po' White Man" and opener, "Hog-Eyed Man" with leaping violin and thumping rhythms evoke dance parties of years past.
However, a key part of TEH's message are the lyrics. Those on "Another Man Done Gone/Hands Up Don't Shoot" prove almost too hard to hear, but the repetitive, call and response structure gives no possibility of missing the unfolding, horrific narrative: "They shot him in his car… He said he couldn't breathe…  He didn't have a gun… They shot him anyway."
Pulling the heart-strings in a more sentimental way are the lyrics of the lovely Bonnie Raitt song, the Scottish air-sounding "I Cann't Make You Love Me".Though they may have started by playing on the streets of Manhattan, TEH have in recent years appeared in such august establishments as Carnegie Hall and the Lincoln Centre, New York City. Indeed 5 Miles From Town is an album which has an urban feel, yet also sounds as though it has sprung from the countryside. Similarly, if feels simultaneously old and very much of our time. Such originality, rawness and integrity deserve to be heard and surely can only benefit those who here it.