Nu World Trashed: The New Release by SoSaLa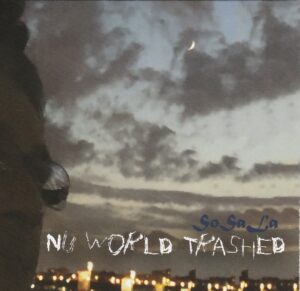 Artist: SoSaLa
Title: Nu World Trashed
Format: CD (limited edition of 300) ONLY! (Digital release will be February 2021)
Label: DooBeeDoo Rec
Genre: nu world trash/nu jazz/oriental/improv/contemporary
Buy here: https://sohrab.info/press-2/
CD Review by Dawoud Kringle
In 2011, SoSaLa (a.k.a. Sohrab Sadaat Ladjavardi) released Nu World Trash. The music was a powerful, passionate, and original aggregate of contrasting musical elements that in the hands of a lesser man would have collapsed into chaos.
Now, after tirelessly devoting himself to building Musicians For Musicians (MFM), and achieving astonishing success with the project, SoSaLa has returned with a new release.
Nu World Trashed takes the concept of his previous release and expands it into new realms. The title describes the "Nu World" created by the Internet; and how we are "trashed" by it. It is a plea to remember and prioritize our humanity in a world that constantly seeks to reduce us to a commodity.
SoSaLa (tenor and soprano saxophone, vocals), is joined by Hubl Greiner (electronics), Paul Amrod (Fender Rhodes), David Belmont (dobro, guitar and percussion), Genetic Drugs (electronics, various instruments), Kaveh Haghtalab (kemancheh), David Shively (Hungarian cimbalom), Lautaro Burgos (cymbals), Mike Irish (keyboards & electronics), Dr. Cornel West (spoken word), Baba Donn Eaton (congas, drums, percussion, harmonica and vocals), Massamba Diop (talking drum / tama), Mar Gueye (sabar), and Bob Romanowski (guitar).
The music begins with "Welcome Nu World." Ambient sounds of the 7pm cheering tradition during the recent coronavirus lockdown gives way to gentle, jazzy Rhodes piano chords courtesy of German producer Hubl Greiner (who also remixed and arranged the tracks). SoSaLa's saxophone melody is an adaptation of "Welcome New Iran" from his previous release Nu World Trash. The mood evoked by the saxophone calling out from a desolate landscape articulates the pain of isolation and social distancing, and at the same time offers consolation and hope. Without warning, an electronic pad emerges, articulating an indistinct frustration. The saxophone and Rhodes respond, offering both empathetic anger and comfort.
"Enough is Enough" is the first single from the collection. This features percussion by Senegalese Mar Gueye and Massamba Diop taken from the "Nu Persian Flamenco" from Nu World Trash. SoSaLa begins the track with a passionate spoken word admonishment directed to those who would exploit the civil and financial rights of musicians; specifically growing out of the major jazz clubs in New York City who reneged on a deal they made in good faith with the Musicians Union Local 802 in 2014. His normally melodic saxophone is occasionally punctuated with angry multiphonics. Dr. Cornell West appears on this track, his brief monologue accentuating the need for unity in the music community. The entire track is SoSaLa's declaration of total war against those who would exploit professional musicians. He names names, and collects heads. Woe betide the man who ignores or underestimates him.
"Mystical Full Moon Hymn for Ornette Coleman" is is a collaboration with Berlin producer  Genetic Drugs and a tribute to SoSaLa's mentor Ornette Coleman. The world jazz sensibility of SoSaLa's eloquent sense of melody is presented within a percussion, bass, and sparse keyboard based context that indefinably suggests reggae / dub.
"Sad Sad Sad Sake" is a live recording of the song of the same name released on Nu World Trash. The piece begins with David Belmont's dobro deftly blending blues and Asian melodies. This was accented by Baba Donn Eaton's ornamental percussion. Kaveh Haghtalab played a kamancheh two part solo, plucking the strings and creating a strange delicacy the western ear would associate with Japanese music, then using the bow in a more traditional manner. SoSaLa's saxophone closed the piece, weaving his emotionally charged melodies in and around the parts created by his fellow musicians.
"Anybody Out There?" is a collaboration with Genetic Drugs again. He used a saxophone solo that SoSaLa had recorded on his iPhone and posted to Facebook in October 2017. It startles the listener with an unexpected electronic opening that gives way to a sparse drum groove. Genetic Drugs manipulates the samples to create an otherworldly and exotic exploration of a music that was evidently waiting within SoSaLa's solo to be decoded.
"What's What?" is another live recording. This moody meditative piece was once described by SoSaLa as a "protest song expressing my wish to see more people in NY to talk to and care for each other." The saxophone cries out, answered by Haghtalab's kamancheh, asking people why they won't treat each other with basic human decency and compassion. A spoken word brings out the unambiguous message of the song,
A melancholic and poetic melody introduces us to "My Shushtari." Based on a classical Persian mode, and intended as a tribute to the late Maestro Mohamad Reza Shajarian. The cimbalom (a Hungarian instrument which resembles the Iranian instrument santur) masterfully played by David Shively offers splashes of precisely placed color to augment SoSaLa's painfully beautiful soprano saxophone.
The next track, "Anybody Out There? (Lift Off)" shows Genetic Drugs reinterpreting the track of the same name. The short reprise creates a contrasting mood to the previous piece and to the first variation. SoSaLa's saxophone is subtle, hiding deep in the electronics, calling out from deep in the shadows – yet the piece would be nothing without it.
The album ends with "Intro Music;" a piece originally used as an intro of the music video Enough Is Enough. Shively returns to improvise with SoSaLa's meditative saxophone.
Each musician and producer brought something very different to the music. Yet they all come together to form a single coherent and multifaceted statement. The music clearly grew out of the previous Nu World Trash CD; but brings the concept it was based on into new musical realms that most people would never know how to unify. Above it all is SoSaLa's amazing saxophone work. Listening to him leaves one with no doubt that he means everything he plays. While his chops are evident, there is no showboating here. Unlike many musicians whose chops reveal a desperate need to evoke praise, SoSaLa tolerates no such superficialities, and has no need to prove himself. He shows again and again that he is a master at his craft. Like a martial arts master (SoSaLa holds a 6th Dan in Kendo), his style is both unique without excessive flourishes, and confident without arrogance. Every phrase and every note reveals the heart of a warrior and the soul of a poet. It's not difficult to imagine his late mentor Ornette Coleman listening from a place we cannot see, nodding in approval.
As I write this, it occurred to me that it's been nine years since SoSaLa has released any recorded music. Apart from sporadic performances and tours, an overwhelming majority of this time has been devoted to MFM and its activism. And in light of the events in the music business and the world at large, this has been a painful necessity which he stepped up and faced with courage and tenacity. Yet his urge to create music was never diminished. This music, as all things in this world, has been a long time coming.
It was well worth the wait.