"In her brief ten year span as a recording artist (ending with her death at the age of 32 in 1990), Emily Remler not only proved that a female jazz guitarist could be the technical equal of any male counterpart, but also that she possessed the intensity and conviction of a true leading musical voice. Her early departure from the scene is tragic, and her legacy as both an artist and a person should be forever maintained in our collective memory." –  Roger Blanc (MFM Board member, guitarist and composer)
Text by Dawoud Kringle
Most of you who read this are musicians. You can probably name a good number of female musicians. Maybe you are a female musician.
This is the first of a series of articles devoted to the women of jazz. It is a small attempt to give props and respect to an inexcusably overlooked segment of the music community.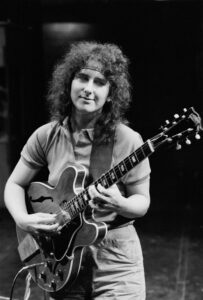 The name Emily Remler is not well known outside a handful of circles, but within those circles, her name is revered. Remler was born in Manhattan on Sept. 18, 1957, and grew up in Englewood Cliffs, N.J. She became interested in guitar at an early age, and at 16, after graduating early from high school, she was accepted into Berklee College of Music. It was at Berklee that she became interested in jazz. Her earliest influences included Paul Desmond, Pat Martino, and Wes Montgomery. She finished her degree at 18 and moved with her then boyfriend Steve Masakowski to his hometown of New Orleans.
Remler met Herb Ellis in 1978. He was impressed with her and got her an engagement at California's Concord Jazz Festival. This was the beginning of a promising career. Soon, she moved to New York. This was a struggle. The usual difficulties aspiring musicians face was exacerbated by people refusing to take her seriously because of her gender. Remler used the adversity as motivation to improve her skills to the point where they'd have no choice but to hire her.
This led to Astrud Gilberto hiring her. John Scofield, whom she'd met in 1980, asked if she was interested in playing on a Clayton Brothers recording, titled "It's All in the Family." On the date she again met the president of Concord Jazz Records, Carl Jefferson. This led to being signed to record an album as a leader; Firefly. She was joined by pianist Hank Jones, bassist Bob Maize, and drummer Jake Hanna. The album did well, and Jefferson extended her contract for three additional albums. Remler was a headliner at the Berlin and Newport Jazz Festivals. Leonard Feather named her 1981's "Woman of the Year."
In 1982, after many features in music trade magazines, People magazine did an article about her, The piece presented her most famous quote: "I may look like a nice Jewish girl from New Jersey. But inside I'm a 50-year-old, heavyset black man with a big thumb, like Wes Montgomery."
In 1983. She recorded Transition and recorded Catwalk the following year. These albums focused on her own compositions, and moved away from the orthodoxy of bebop. Not long after, Remler recorded an album with Larry Coryell titled Together. They toured and performed at international festivals and presented guitar workshops.
Her success, however, was beset by numerous personal problems. Bob Moss summed it up thusly: "I noticed that she got a lot of jealousy and resentment from a lot of male musicians. She was undercut by guys with big egos who didn't appreciate the fact that this little girl outplayed them most of the time." Her addiction to heroin and dilaudid became a terrible problem. She had acquired a reputation within musical circles for her drug abuse problem.
In 1986, Remler attempted to change her life. She moved to Pittsburgh, became an artist-in-residence at Duquesne University and studied at the University of Pittsburgh with Bob Brookmeyer. She continued doing club dates, playing festivals and freelancing on records. She also went into therapy, hoping to beat  her addiction (and the demons that invariably hid behind the disease).
In the spring of 1988, she moved back to New York, made a bebop record, East to Wes, with Hank Jones, bassist Buster Williams and drummer Marvin "Smitty" Smith, and recorded with pianist David Benoit and vocalist Susannah McCorkle.
During this time, Remler also began experimenting with electronics, including the fledgling form of the guitar synthesizer. In 1989, she signed a deal with Houston-based Justice Records to release This Is Me, an album that blended traditional jazz-guitar, Brazilian, African rhythms, and crossover jazz-pop.
While on tour of Australia in May of 1990, Remler was found dead in a hotel room. The official cause of death was listed as heart failure (while there was no mention of drug use playing a part in her death, many people believed otherwise).