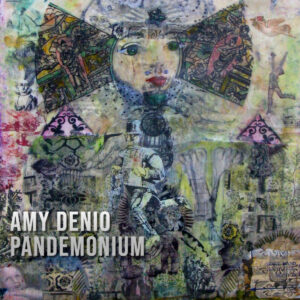 Artist: Amy Denio
Title: Pandemonium
Label: Spoot Music
Genre: singer songwriter/no genre
Buy and listen here: https://amydenio.bandcamp.com/album/amy-denio-pandemonium
Review by Dawoud Kringle
Seattle, WA based producer, composer, improviser and singer multi-instrumentalist, Amy Denio is no stranger to those who regularly read DBDBD. Her catalog of music has ranged from her solo work, her work with Kultur Shock, Die Resonanz Stanonczi, Ama Trio, collaborations with Bill Frisell, Fred Frith, and others, and her soundtrack work.
Now, Denio has released Pandemonium, a collection of music she describes as "reflect(ing) the last 15 months in quarantine from the COVID-19 virus. They are inspired by chance encounters, sudden deaths, random thoughts, and places where I have lived in the past. I recorded many of them in a single day."
Joined by Nonda Trimis (surdo, pandeiro, tamburim), Jon Paul Pachenker (fish on "Trieste"), Gokotta (algorithm creating drums and bass, violin), Chris CD Littlefield (flugelhorn, trumpet, trombone, bass trombone on "Washington State"), and Gino Jevdjevic (trash percussion sounds). Matty Noble co-composed the piece "Snoozed Past Gokotta." Denio sang, and played accordion, Bb clarinet, alto sax, electric guitar, 12-string guitar, electric bass, American tourister briefcase (evidently played as a percussion instrument), and baglamadita ("upcycled by Domenikos Visser").
The album opens with "All the Kingsmen." A rolling, lilting acoustic guitar figure paves the way for some imaginative horn harmonies and counterpoint melodies. Denio's soft soprano rises above this in a way that harkens to the days of Joni Mitchell and Renaissance.
The opening track does nothing to suggest the jazzy, bluesy, and Dark-Side-Of-King-Crimson mood evoked by "Detroit." This is an instrumental that paints a gloomy picture of the once great American city.
The next surprise was "Dublin." Here, Denio begins with an Irish drinking song, and morphs it into a dazzling display of colorful harmonies.
Throughout the album, Denio takes the listener on a stylistic adventure. No two tracks are the same; there is no one definite genre that can be defined here. The listener is treated to multi-tiered acapella (Northampton), a no-man's-land between jazz and,,, something else (Mumbai), psychedelic rock ("Convergency Vortex"), forays into Brian Eno-ish ambience ("Washington State"), and other genre defying musical statements. Yet, as diverse as this music is, the entire collection works beautifully together as a coherent whole. Denio's skills as a composer, arranger, and performer are astonishing.
Previous Amy Denio Posts